BAGHDAD – Iraq plans to uproot an Iranian exile group that has become a headache for the Baghdad government and move the activists to a remote southern area until it can expel them, the prime minister said this week.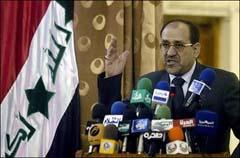 Prime Minister Nuri al-Maliki vowed to oust members of the People's Mujahideen Organisation of Iran (PMOI), an Iranian opposition movement that the United States considers a terrorist organisation, from a camp northeast of Baghdad where they have been living for two decades.
Their clamor for greater rights within Iraq and aggressive international outreach has been an irritant for a government seeking to nurture its fragile relationship with Tehran.
Maliki did not say when officials would try to move the exiles from Camp Ashraf to the southern province of Muthanna.
"Moving them to Nuqrat al-Salman is a step towards expelling them (from Iraq)," Maliki wrote in a question-and-answer session posted on a state website. He was referring to a remote area that is home to a well-known prison. The entry was dated Dec. 7.
Iraqi forces clashed with residents in late July when they forcibly took control of the camp, which had been protected by U.S. troops since Saddam Hussein's ouster in 2003.
The Iraqi government, which sees the camp's 3,500 residents as enemies who enjoyed Saddam's protection for years, is keen to force the PMOI out of Iraq but wants to avoid being seen as trampling the exiles' rights or endangering their lives.
The PMOI began as an Islamist leftist group opposed to Iran's late Shah, but fell out with Shi'ite clerics who took power after the 1979 revolution and was crushed.
Mujahideen guerrillas carried out attacks against Iranian targets and collaborated with Baghdad in the Iran-Iraq war in the 1980s. Iran executed a large number of PMOI prisoners at the end of the war.
Maliki suggested the exiles would be less troublesome in largely Shi'ite Muthanna than they were in Diyala, an ethnically and religiously mixed province that remains volatile.
"Their presence at Ashraf is a major risk because of the historical ties with some groups and political powers in that area, especially the remains of the former regime and al-Qaeda," the prime minister said.
He dismissed objections to the move from local officials in Muthanna. "The province is a part of Iraq and it must assume its responsibility," Maliki said.
Reporting by Waleed Ibrahim and Missy Ryan, editing by Paul Taylor