Iraq will send a delegation to Syria to try to convince Damascus to implement an Iraqi initiative to end months of bloody conflict, Prime Minister Nuri al-Maliki told AFP in an exclusive interview.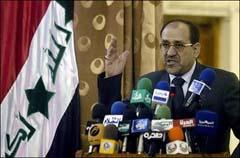 Maliki also said that oil giant ExxonMobil has promised to reconsider an exploration deal with Iraq's autonomous Kurdistan region that has angered Baghdad, and that a year-end deadline for closing an Iranian opposition exile camp in Iraq is final.
"When I arrive in Baghdad, I will hold a meeting to prepare the plans to send a delegation to Syria in order to implement the Iraqi initiative," Maliki told AFP as he flew back to Iraq after a trip to Washington.
The initiative is aimed at opening a dialogue between the opposition and the Syrian government to reach a result that satisfies both sides, he said.
"America and Europe are afraid of the phase after (Syrian President) Bashar al-Assad. That is why they (the United States and Europe) understand the initiative" from Iraq, Maliki said.
The United Nations this week estimated that more than 5,000 people have been killed in the Syrian government's crackdown on dissent, which enters its 10th month on Thursday.
Baghdad has so far shied away from punitive measures against Assad's regime, abstaining from both a vote to suspend Syria from the Arab League, and another to impose sanctions against Syria.
Maliki also said that Exxonmobil has agreed to reconsider its controversial oil exploration deal with the autonomous Kurdistan region in north Iraq.
"We had a meeting with (Exxon) in Washington and we discussed the contracts, some of which are located in disputed areas," Maliki said.
"They promised to reconsider their decision," he said.
Kurdistan on October 18 inked a deal with ExxonMobil for it to explore six areas, but Baghdad regards any contracts not signed with the central government as invalid.
An official with the Iraqi oil ministry has said that two of the areas — Al-Qosh and Bardarash — are actually parts of Nineveh province that Kurdistan wants to annex into its autonomous region, a move Baghdad opposes.
The Kurdistan contract potentially puts an Exxon contract with the Iraqi government in jeopardy.
Iraq's oil ministry completed the deal with ExxonMobil and Anglo-Dutch giant Shell in January 2010 to develop production at West Qurna-1, which with reserves of about 8.5 billion barrels is the country's second-biggest field.
And Maliki also said that Iraq's decision to close Camp Ashraf, which is occupied by the opposition People's Mujahedeen Organisation of Iran (PMOI), is final.
"The decision we made is irreversible," Maliki said.
He said that a United Nations representative was not permitted to visit Camp Ashraf, and that the PMOI had also refused to implement a UN plan to shut down the camp, saying that this reinforced Iraq's decision.
This "means that it (the PMOI) is a criminal gang, and we cannot allow a criminal gang to remain" in Iraq, Maliki said.
The United Nations appealed to the Iraqi government on December 6 to push back the deadline to close the camp, located in Diyala province northwest of Baghdad, warning of a growing risk of violence.
The positions of the residents and the government "remain far apart," the UN envoy to Iraq Martin Kobler told the Security Council, appealing to the international community to find new homes for the exiles.
Camp Ashraf, which has become a mounting international problem, has been in the spotlight since a deadly April raid on the camp by Iraqi security forces.
The camp was set up when Iraq and Iran were at war in the 1980s by the PMOI and later came under US control until January 2009, when US forces transferred security for the camp to Iraq.
The PMOI has been on the US government terrorist list since 1997.
Ammar Karim