Iraq has rejected a UN appeal to extend the year-end deadline to shut down Camp Ashraf, saying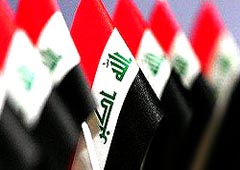 the Mujahedin-e Khalq Organization (MKO) anti-Iran terrorist group based there is a "criminal gang."
"The decision we made [to evacuate the camp by the end of 2011] is irreversible," Iraq's Prime Minister Nuri al-Maliki told AFP on Thursday.
Maliki went on to describe the MKO as a "criminal gang," adding, "We cannot permit a criminal gang to remain here."
The comments by the Iraqi prime minister come on the heels of an appeal last week by the UN for the extension of the deadline to close down Camp Ashraf.
"I … appeal to the government of Iraq to extend this deadline in order to permit adequate time for a solution to be found," the UN envoy to Iraq, Martin Kobler, told the UN Security Council on December 6.
Camp Ashraf, about 120 kilometers (74.5 miles) west of the Iranian border, houses some 3,400 members of MKO terrorist group which is notorious for carrying out numerous acts of terror against Iranian civilians and officials.
The terrorist group is also known to have collaborated with Saddam in the bloody repression of the 1991 Shia Muslims in southern Iraq and the massacre of Iraqi Kurds in the country's north.
Baghdad considers Camp Ashraf and its suspected terrorist residents as a threat to its national security and insists it is determined to close down the terrorist base by the end of 2011.
While the MKO is designated as a terrorist organization under the United States law, and has been described by State Department officials as a repressive cult, The New York Times recently reported that Washington is mulling over removing the MKO from its terrorist watch list and giving refuge to its members.
Last month, European Union foreign policy chief, Catherine Ashton, said she would urge EU member states to accept the residents of Camp Ashraf.
Iran has repeatedly called on the Iraqi government to expel the group, listed as a terrorist organization by much of the international community, but the US has been trying to block the expulsion by pressuring the Iraqi government.
In April, Iranian Justice Minister Morteza Bakhtiari said 12,000 Iranians have fallen victim to MKO's acts of terror. He also condemned the US and Europe for their continued support for the terrorist group, referring to the EU decision to remove the group from its list of terrorist organizations in 2009.