Iraq's Judiciary is to press ahead on a series of criminal and civil charges collated over the past year against the terrorist Mojahedin-e Khalq (MKO) and its members. The charges relate to various issues and cover over two decades of MKO presence in Iraq.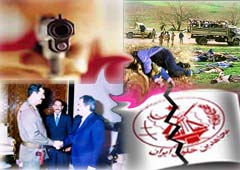 Farm land confiscated by Saddam Hussein's regime has been used by the MKO for its headquarters for twenty three years under the name Camp Ashraf. Land owners are now able to claim compensation for their stolen land.
Thirty seven arrest warrants have been issued against individual members for their involvement in suppressing the 1991 Shabani uprising in Kurdistan. International arrest warrants have been issued for some individuals. Civil law suits for murder have also been brought against members of the MKO in Tuz Khormato pertaining to the same period.
Civil suits have been brought by a family who accuse the Mojahedin organisation of killing their son during an Iraqi security operation to open a police station inside Camp Ashraf in July 2009. A former resident of the camp has also filed a civil suit claiming the organisation violated his human rights.
The Court will look into charges that the residents of the MKO's camp still maintain military status and continue to wear military uniform. In July 2009 during the Iraqi takeover of the camp, weapons and military equipment were confiscated even though the American military had purportedly disarmed the group in 2003. Unregistered military vehicles from the former Iraqi Army were found at the camp and identified as having been illegally seized by the MKO. A military parade held at the camp in February 2008 is also deemed to have been illegal by the Iraqi authorities.
The MKO is accused of hosting meetings and conferences for political parties inside their camp. Former residents at Camp Ashraf have identified such participants as supporters of the former Baath regime of Saddam Hussein and other insurgent groups, including Al Qaida in Iraq.
Further complaints which will be investigated by the Court include unwarranted resistance by the MKO to the Government of Iraq's plan to transfer camp residents to another camp inside Iraqi territory; a move that is supported by the ICRC.
The question of what to do with residents who have seceded from the MKO and escaped from the camp will also be addressed. Some of these individuals are still being cared for by the Iraqi Government. Several families of the residents at Camp Ashraf have asked the court to assist in freeing their relatives from the control of the MKO.
For further information contact Iran-Interlink.