TEHRAN (FNA)- A senior Iraqi foreign ministry official on Tuesday underlined his government's determination to expel members of the anti-Iran terrorist group, the Mojahedin-e-Khalq Organization (MKO), from the country.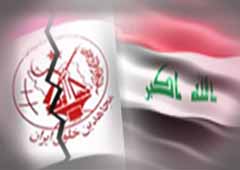 "Transfer of MKO's members to the South of Iraq is a preliminary to their final expulsion from Iraq," Iraqi Deputy Foreign Minister Mohammad Haj Hamoud said at a meeting with Secretary-General of Iran's Habilian Association Seyed Mohammad Javad Hasheminejad in Iran's holy city of Mashhad.
"The MKO member will be expelled from our country and I hope that the efforts made by the (Iraqi) government to materialize the Iraqi people's old demand (for the expulsion of the MKO) will soon yield positive results," Haj Hamoud underscored.
He further reminded the crimes committed by the MKO against the Iraqi people, and added, "The group was not welcomed by the Iraqi people even during the era of Saddam (toppled president of Iraq) and we consider them as a terrorist group."
During the meeting, Hasheminejad stressed that presence of terrorist groups in Iraq was a heavy blow to the establishment of peace and tranquility in the country.
The MKO has been blacklisted as a terrorist organization by many international entities and countries.
The MKO is behind a slew of assassinations and bombings inside Iran, a number of EU parliamentarians said in a recent letter in which they slammed a British court decision to remove the MKO from the British terror list.
The EU officials also added that the group has no public support within Iran because of their role in helping Saddam Hussein in the Iraqi imposed war on Iran (1980-1988).
The group started assassination of the citizens and officials after the revolution in a bid to take control of the newly established Islamic Republic. It killed several of Iran's new leaders in the early years after the revolution, including the then President, Mohammad Ali Rajayee, Prime Minister, Mohammad Javad Bahonar and the Judiciary Chief, Mohammad Hossein Beheshti who were killed in bomb attacks by MKO members in 1981.
The group fled to Iraq in 1986, where it was protected by Saddam Hussein and where it helped the Iraqi dictator suppress Shiite and Kurd uprisings in the country.
The terrorist group joined Saddam's army during the Iraqi imposed war on Iran (1980-1988) and helped Saddam and killed thousands of Iranian civilians and soldiers during the US-backed Iraqi imposed war on Iran.