The Iraqi government is planning to deport Iranian dissidents of an opposition movement in exile that had led a guerrilla campaign against the US-backed Iranian Shah during 1970s, which included attacks on US targets
BAGHDAD (AA) – The Iraqi gover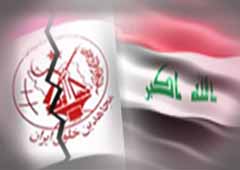 nment is reportedly planning to deport Iranian dissidents of an opposition movement in exile, known as the People's Mujahideen Organization of Iran (MEK), which had led a guerrilla campaign against the US-backed Iranian Shah during 1970s, which included attacks on US targets.
The UN called on the Iraqi government earlier to do all it can to protect the Iranian exiles left in a camp north of Baghdad after confirming that 52 people were killed there.
Iraq's government wants to shut down the facility known as Camp Ashraf (Liberty) and transfer thousands of Iranian exiles living there to another camp out of the country as it is growing impatience with a UN coordinated effort to resettle them abroad.
Undersecretary of the Iraqi National Security Falih al-Fayyaz said the Iraqi government ran out of patience as there were no international efforts to resettle them outside Iraq.
"Iraqi government will put an end to this issue soon," Fayyaz said. "We want concrete solutions to transfer them to different countries".
The Iraqi government had moved 3,400 MEK members to Camp Liberty in Baghdad in 2012 under an agreement with the United Nations.
Anadolu Agency,