The British Foreign Office Thursday denied any links with the Mujahedin-e Khalq (MKO) terrorist organisation despite removing the anti-Iran group from its proscribed list two years ago.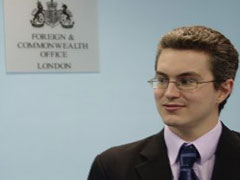 "The British Government has no form of contact with this organization, as a point of principle," Foreign Office spokesman Barry Marston said.
"The MKO was responsible for a number of horrible acts of terrorism against ordinary Iranians and have never unambiguously renounced violence," Marston told IRNA.
"Neither do we believe this group enjoys any kind of popular support inside Iran," he said after British Ambassador Simon Gass was summoned to the Foreign Ministry in Tehran following accusations of UK involvement in terrorist plots.
The MKO were among the first terrorist groups to be outlawed in the UK in 2001, but also became the first to be deproscribed two years ago, leading to suggestions that the move was politically motivated coming at a time of deterioration in relations.
The UK government has always accepted that the anti-Iran group have never categorically given up terrorism but insisted that it was forced to remove it from their banned list after losing a court ruling that was supported by many MPs in 2008.
Marston said Britain "condemned acts of terrorism in Iran by criminal groups like Jondallah & the MKO, particularly horrific attacks against Mosques, security forces & innocent people."
"Accusations that Britain has had any involvement in supporting such groups is ridiculous and untrue," he said, adding that the UK government takes "terrorism extremely seriously, so in principle we'd be ready to cooperate with the Iranian authorities relating to credible evidence of genuine acts of terrorism."