The Iraqi government has decided to expel all members of the terrorist Mojahedin Khalq Organization, according to a number of reports.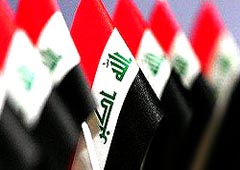 The decision was made because MKO members are still committing hostile acts in Iraq and the Iraqi people can no longer tolerate them, the Mehr News Agency reported on Friday.
In addition, an Iraqi news agency reported that during a recent telephone conversation with EU foreign policy chief Catherine Ashton, Iraqi Foreign Minister Hoshyar Zebari said the Iraqi government had decided to expel the terrorist group within six months.
Zebari also emphasized the need to close Camp Ashraf, where the MKO members in Iraq have been confined since the fall of the Baathist regime in 2003, and asked European nations and other countries to accept the MKO members after they are deported.
The Iraqi government does not allow foreigners who violate its laws to stay in the country, he added.
Thousands of Iraqis recently held demonstrations in front of Camp Ashraf, in which they demanded that the Iraqi government deport all the MKO members residing in the country, Nahrainnet reported.
Meanwhile, the police of Iraq's Diyala province has released documents showing that MKO members have been holding secret meetings where they discuss plots to undermine the security of the province.
The secret gatherings have negatively impacted the security situation of the province, according to the documents.
The documents also revealed that Al-Qaeda members have held many meetings with MKO members and provided financial support to the MKO.
In a recent interview with the Al Alam network, Iraqi MP Ali al-Shalah said Iraq will never allow any part of its territory, including Camp Ashraf, to be used for launching attacks against Iran.