The presence of the MKO camp in Iraq and the consequences of their remaining are among the main topics discussed in Iraq 's political circles.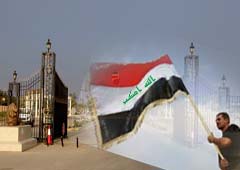 In a conference organized by the Iraqi Center for Media Development, a number of Iraqi officials and ordinary people came together in capital Baghdad to talk about the MKO presence in Iraq.
The attendees stated that the brutality of the MKO members against the Iraqis in the 1991remind them of the bloody era of the dictator Saddam which lasted more than thirty five years.
The organizers said that the Iraqi government has decided to give the MKO members six months time to leave the country.
Many others showed frustration toward the intervention of the US government in this issue, saying that the US forces are putting pressures on the Iraqi officials to keep the MKO in Iraq. They said the main motive is to use MKO to launch attacks against the neighboring country.
Political analyst say that the Iraqi government should take some serious steps toward the expulsion of the MKO.
The group is especially notorious in Iran for having sided with former Iraqi dictator Saddam Hussein during the 1980-1988 Iran-Iraq war.
Wisam al-Bayati