The Minister of Foreign Affairs [Hoshyar Zebari] met with Ms. Catherine Ashton, EU foreign policy coordinator today 22/9/11, in New York.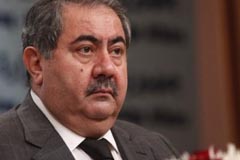 During the meeting they discussed the Partnership and Cooperation Agreement between the EU and Iraq and the importance of signing the agreement at the earliest opportunity, especially since the majority of European parliaments have ratified the Convention.
The Minister expressed the reservation and objection of the Iraqi government to the request of the European Commission to designate a special representative to Camp New Iraq (formerly Ashraf) but stressed that the government of Iraq has consistently appealed to and asked European countries and other countries to receive and resettle residents of the camp in their countries.
He also stressed that the government is committed to close the camp by the end of the year and it will take necessary measures to complete the plan while observing international humanitarian law in dealing with the inhabitants of the camp.
It was agreed to maintain dialogue and communication and mutual visits between the two sides in the coming period.
Iraq Foreign Ministry, translated by Iran Interlink