Iraqi Foreign Minister Hoshyar Zebari, on Thursday, asked European countries to resettle residents of Camp Ashraf in their countries, saying that without this the process of transfer to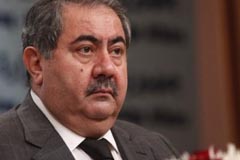 Camp Liberty is threatened with failure.
A Foreign Ministry statement received by Alsumaria News, reported that "Foreign Minister Hoshyar Zebari discussed today with the President of the United Nations Mission in Iraq Martin Kobler the issue of Camp Ashraf and ways that Iraq would meet its humanitarian and international obligations," indicating that "Iraq has demanded that European states accept to resettle them, and without this the ongoing process between Iraq and UNAMI to move them [MEK] to Camp Liberty is threatened with failure."
…On February 17th the Iraqi government, in coordination with the United Nations, moved 400 residents of Camp Ashraf to Camp Liberty[TTL] in western Baghdad in the first transfer of MEK members outside Diyala province since April 2003.
The United Nations mission (UNAMI) said in a statement issued at the end of January that the infrastructure and facilities in camp Liberty[TTL] comply with international humanitarian standards set forth in a memorandum of understanding signed between the Iraqi government and the United Nations…
Al Sumerian News, Translated by Iran Interlink