Iraqis have staged a protest rally in the eastern province of Diyala to urge the authorities to close down Camp Ashraf, which hosts members of the terrorist Mujahedin-e Khalq Organization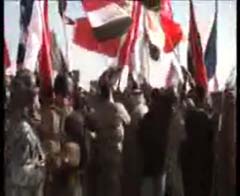 (MKO).
Protesters demand the expulsion of MKO members from Iraq and that the camp be dismantled, a Press TV correspondent reported on Friday.
The relatives of some MKO members also joined the gathering near Camp Ashraf, calling on their loved ones to abandon the notorious group.
A number of defected MKO members, who were among the protesters, described living conditions at the camp as dire, adding that those residing there are deprived of their basic rights.
Iraqi government officials have repeatedly said that Baghdad is determined to close down Camp Ashraf by the end of 2011.
"We have already made it clear about closing … Camp Ashraf before. The decision will be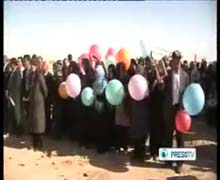 implemented by the end of this year," Iraqi Foreign Minister Hoshyar Zebari said in October.
"The government insists on completing this mission … There is no government that would agree to an organization staying against its (authorities') will, laws and sovereignty," he added.
Meanwhile, there are reports suggesting that UN-brokered talks are underway on moving several thousand MKO members to another location in Iraq rather than expelling them from the country.
The MKO has carried out numerous acts of terror and violence against Iranian civilians and government officials.
The group fled to Iraq in 1986, where it enjoyed the support of Iraq's executed dictator Saddam Hussein, and set up Camp Ashraf in Diyala Province, near the Iranian border.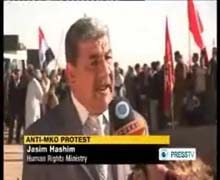 The organization is also known to have cooperated with Saddam in suppressing the 1991 uprising in southern Iraq and the massacre of Iraqi Kurds.
Iran has repeatedly called on the Iraqi government to expel the group, but the US has been blocking the expulsion by mounting pressure on the Iraqi government.