Hundreds of Iraqis have taken part in a protest rally to demand the expulsion of members of the terrorist Mojahedin-e-Khalq Organization (MKO) from their country, Press TV reports.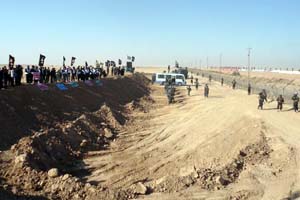 Iraqi demonstrators protest MKO presence in Iraq outside Camp Ashraf on Friday, December 9, 2011.
The protesters rallied outside the notorious Camp Ashraf in Diyala Province on Friday where the MKO has been based since the early 1980s, urging the Iraqi government to close the camp and expel its members from Iraq.
A number of Iraqi clerics and tribal leaders were also among the protesters who carried banners with anti-MKO slogans and condemned the terrorist group's presence in their country.
Iraqi tribal leaders say the MKO members are highly trained criminals who have killed thousands of Iraqis.
Meanwhile, Adnan al-Shahmani, a lawmaker heading the Iraqi parliament's Camp Ashraf Closing Committee, criticized the European Union's stance on MKO presence in Iraq.
The lawmaker criticized EU member states for neither allowing the Iraqi government to expel MKO terrorists, nor accepting them in their own countries. Shahmani said that EU refusal to accept MKO in their countries was good evidence to terrorist nature of this organization.
Shahmani further stated that the Iraqi lawmakers will continue to resist US pressure on the Iraqi government to keep MKO on its soil.
In a recent visit to Baghdad, the UN special envoy to Iraq, Martin Kobler, urged Iraqi officials to extend the deadline for MKO presence in Iraq. Iraqis are concerned that UN interference may help the terrorist group to prolong its presence in the country.
The Iraqi government has made clear its plans to close down Camp Ashraf, located about 120 kilometers (74 miles) west of the border with Iran, which hosts about 3,500 MKO terrorists, before US troops pull-out by the end of the year.
The MKO is designated as a terrorist organization under United States law, and has been described by State Department officials as a repressive cult.
The group fled to Iraq in 1986, where it enjoyed the support of Iraq's executed dictator Saddam Hussein, and set up its camp near the Iranian border.
MKO is also known to have cooperated with Saddam in suppressing the 1991 uprisings in southern Iraq and the massacre of Iraqi Kurds. The group has carried out numerous acts of violence against Iranian civilians and government officials.
Iran has repeatedly called on the Iraqi government to expel the group, but the US has blocked the expulsion by mounting pressure on the Iraqi government.