EU to urge members to accept MEK Terrorists
EU foreign policy chief Catherine Ashton will urge EU states next week to accept as many residents as they can of a camp of Iranian dissidents in Iraq that Baghdad plans to close by the end of the year, EU officials said on Thursday.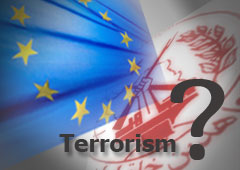 Ashton will make the call as part of efforts to resolve the issue of Camp Ashraf, a base of the People's Mujahideen Organisation of Iran, which mounted attacks on Iran before the U.S.-led removal of Iraqi leader Saddam Hussein.
The United Nations High Commissioner for Refugees has been trying to arrange to interview the more than 3,000 residents to determine who among them qualifies for refugee status and thus resettlement, but Iraq has yet to allow this.
A senior EU official said the United Nations and Iraq were working to resolve "a logistical problem" caused by Iraq's refusal to allow the interviews to take place at the camp.
Hundreds have links to third countries, including EU states, while another 1,000 were thought to want to return to Iran.
He said Iraq had proposed that the interviews take place at a Baghdad hotel. Talks were also under way on the possibility of housing those not immediately relocated to third countries at a former U.S. base near Baghdad for up to six months.
The official said the United Nations had estimated in the past that about 800-900 of the residents had sufficient links to third countries to allow their resettlement, while another 1,000 were thought to want to return to Iran.
Another EU official said Ashton would call on EU states at a meeting of EU foreign ministers next week to take responsibility for those entitled to resettle in their countries.
"We have a deadline coming up," he said. "We are doing all we can to make sure member states take their responsibility."
The senior EU official was unable to estimate how many residents might be entitled to resettlement in EU countries. He said many claimed links to France and Germany but both countries showed a reluctance to accept them.
The EU removed the PMOI from its terrorism list in 2009, but it is still considered a terrorist organistion by other countries, including the United States.
The senior EU official said Iraq had issued arrest warrants for up to 120 of the residents, some of whom had helped Saddam in his campaigns against Iran and Iraq's Kurdish minority.
"I guess the Iraqis will want to put them on trial," he said, adding that he did not think any EU country would want to give this group asylum.
The official said that while some EU countries were willing to take in limited numbers, the best hope for the others was for resettlement in countries such as Australia and Canada.
"The International community will do its best to relocate them, but it won't be easy because many people consider them (the PMOI) terrorists."
The future of Ashraf's residents became uncertain in 2009 after the United States turned the camp over to the Iraqi government, which considers its residents a threat to security.
Amnesty International says they are subject to harassment by the government and denied access to basic medicine. More than 30 were killed in a clash with Iraqi security forces in April.
On Tuesday, members of the European Parliament called on Ashton to step up pressure on Iraq to extend the deadline for closing the camp.
Reporting by David Brunnstrom; Editing by Jon Hemming