MEK group in Iraq agrees to quit Camp Ashraf
The diplomatic standoff over a group of Iranian dissidents in Iraq appeared to be resolved Wednesday when the dissidents agreed to abandon their camp north of Baghdad and move to a former U.S. Army base, where the United Nations will process their applications for refugee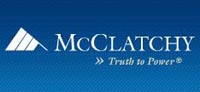 status in Europe and elsewhere.
The first 400 of the more than 3,000 members of the People's Mujahedeen of Iran – which Iraq earlier this year had threatened with mass expulsion – are ready "as a goodwill gesture" to transfer with their movable property and vehicles "at the first opportunity" to the former Camp Liberty at Baghdad International Airport, the group's leader, Maryam Rajavi, announced.
Prime Minister Nouri al-Maliki said last week that he had agreed to postpone the deportation, which he'd set for Dec. 31, until at least April.
The group is deeply concerned about its safety and fears deportation to Iran, but Rajavi said a key reason for agreeing to leave its camp, known as Camp Ashraf, in Diyala province was the commitment by Secretary of State Hillary Clinton on Sunday that U.S. Embassy officials would visit "regularly and frequently."
In addition, under an accord signed that day by Martin Kobler, the U.N. special representative in Iraq, the U.N. will conduct "24/7 monitoring at the camp until the last of the residents leaves Iraq." Kobler's letter, released by the group Wednesday, pledged that no one would be repatriated to Iran against their will but cautioned that resettlement abroad was up to third countries.
The fate of the MEK, as it's known by its Farsi language initials, has become an international cause celebre. The MEK had fought as a mechanized division in alliance with Saddam Hussein during the 1980-88 war with Iran but was stranded by the U.S. invasion that toppled him in 2003.
The U.S. and Iraq officially view MEK as a terrorist group, although several top former U.S. national security figures have taken part in a major, well-funded campaign to have the group removed from the U.S. list of terrorist organizations.
Al-Maliki, has demanded repeatedly that the MEK leave its camp near the Iraq-Iran border. In April, Iraqi troops attacked the camp in a military operation that reduced its size by about one-third and left at least 35 dead.
The MEK said it had come under rocket attack on Sunday and Tuesday, but no injuries were reported.
After MEK members agreed in late August to file individual applications for asylum in third countries, Kobler began an arduous negotiation with the Iraqi government to ensure that there was adequate time for the U.N. High Commissioner for Refugees to conduct interviews to determine refugee status.
As many as 900 of the camp residents have papers or travel documents from third countries, and these will be among the very first processed, U.N. officials said. Those who wish to return to Iran will be processed rapidly, Kobler said in his letter.
One unanswered question is the fate of some 100 MEK members against whom Iranian criminal charges are pending, according to Iran's ambassador to Iraq, Hasan Daniaei-Far.
Another is how the transfer to the former U.S. Army base will proceed. Kobler's letter said that Iraq would provide security for the transfer, but he did not stipulate that residents could travel in their own vehicles and bring their movable property with them as Rajavi insisted they would do.
By ROY GUTMAN