EU High Representative Catherine Ashton Saturday "very much welcomed" the news from Iraq that the first group of residents from Camp Ashraf has moved in a voluntary, orderly and peaceful manner to Camp Hurriya.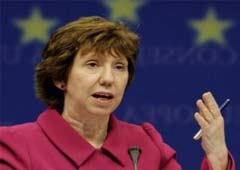 "I congratulate the United Nations – in particular the Secretary General's Special Representative Martin Kobler – for many weeks of sustained efforts to facilitate this critical first step towards a peaceful solution to the situation of Camp Ashraf," she said in a statement.
She also commended the Government of Iraq, and the Camp residents themselves, for the commitment and flexibility which enabled this first move to take place.
Ashton said she will continue discussing with EU Ministers how best the EU can continue to support a peaceful and durable solution to this humanitarian concern.
Over 30,000 Iranians belonging to the dissident group Mujahedin-e Khalq Organization (MKO) are housed in the Camp near Baghdad.