Rajavi says no more transfers unless police leaves new camp
Iraq evacuated an initial batch of 400 Iranian dissidents on Saturday from a base founded under Saddam Hussein, a first step towards expelling their entire group from Iraqi territory.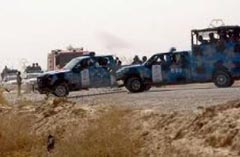 The People's Mujahideen Organisation of Iran (PMOI), a group that calls for the overthrow of Iran's clerical rulers, took refuge at Camp Ashraf, 65 km (40 miles) from Baghdad, during the 1980-1988 Iran-Iraq war. Ashraf now houses around 3,000 people.
With Iraq's Shi'ite majority newly empowered following Saddam's fall in 2003, Baghdad has forged closer ties with its Shi'ite neighbour Iran, and the PMOI is no longer welcome here.
"It is clear that for Camp Ashraf residents there is no future for them inside Iraq. It's not easy for them to leave their place but I'm convinced this is the only peaceful alternative," U.N. special envoy to Iraq Martin Kobler said shortly after the Ashraf residents arrived at a "transit site" on a vast former U.S. military base in Baghdad.
From this new camp, a cluster of prefabricated houses in Camp Liberty, near Baghdad airport, they are due to make arrangements to settle outside Iraq.
The National Council of Resistance of Iran (NCRI), the PMOI's political wing, says agreeing to move the initial group is a goodwill gesture, but its complaints about the camp and how the transfer was conducted suggest difficulties lie ahead.
Detailed searches of each person's belongings took so long they arrived almost 24 hours after the media were invited to Camp Liberty to witness the transfer, one of the group said.
"This is an extremely unusual, insulting and humiliating inspection that is only compatible (with a) transfer of prisoners," the NCRI said in a statement.
TROUBLE AHEAD?
The NCRI likens the new site to a prison. It says people will not be able to come and go freely or have unfettered access to lawyers and medical services. It has also complained about restrictions on the belongings which people can take with them.
The United Nations says the site meets humanitarian standards for "refugee situations".
The PMOI waged a violent insurgency against the U.S.-backed shah of Iran in the 1970s, but turned against the rulers who replaced him after the 1979 Islamic revolution. It says it has renounced violence and wants to set up a democratic state.
Despite the PMOI being officially considered a terrorist organisation by the United States, Camp Ashraf was protected by American troops following the U.S.-led invasion of Iraq almost nine years ago. Washington turned it over to Iraq in 2009.
The leader of the PMOI said on Thursday she agreed to have the initial group of 400 people moved after receiving assurances from U.S. Secretary of State Hillary Clinton about their safety.
Safety concerns are understandable, given past violence.
Clashes between Ashraf residents and Iraqi security forces in April killed 34 people. The NCRI has also blamed rocket attacks targeting Ashraf on the Quds Force of Iran's Revolutionary Guards Corps "and its Iraqi agents".
Under pressure from the United Nations and European Union, the Iraqi government agreed late last year to extend its deadline to close Ashraf from the end of 2011 to April 30, 2012, a measure aimed at preventing further violence.
The NCRI, citing the clashes, has objected to the presence of Iraqi police inside Camp Liberty and said no more Ashraf residents would be moved unless the police left the camp.
"Transfer of the next groups will only take place after the Special Representative of the (U.N.) Secretary-General and the Iraqi government declare their approval of the minimum assurances, particularly (the) departure of Iraqi police from inside Camp Liberty," the NCRI said in a statement on Friday.
By Francois Murphy and Yara Bayoumy