The Secretary-General welcomes the signing on 25 December of a Memorandum of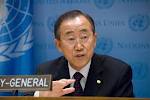 Understanding (MoU) between the United Nations and the Government of Iraq for the voluntary relocation of the residents of Camp New Iraq (formerly Camp Ashraf). He believes that the agreement lays the foundation for a peaceful and durable solution to the situation, respecting both the sovereignty of Iraq and its international humanitarian and human rights obligations. The MoU is the result of intense negotiations between his Special Representative for Iraq, Mr. Martin Kobler, and representatives of the Iraqi government. The residents of the camp have also been consulted.
The Secretary-General welcomes the decision of the Government of Iraq to extend the deadline for the closure of the camp to provide more time and space for the peaceful voluntary relocation of the residents. As reflected in the MoU, the Government of Iraq has a clear and exclusive responsibility to ensure the safety and security of the residents. At the same time, the residents of camp New Iraq have to abide by the laws of Iraq. He appeals to all concerned to continue to demonstrate flexibility and good faith and move towards the swift implementation of the relocation plan. The Secretary-General reminds all concerned that any violence or attempt at a forcible solution would be unacceptable. The Secretary-General also reiterates his call to Member States to accept the residents who are eligible for voluntary return or resettlement as soon as possible.
The United Nations has been involved in this issue from a purely humanitarian perspective and has played the role of an impartial facilitator. Under the leadership of Special Representative Martin Kobler, the United Nations Assistance Mission for Iraq (UNAMI) and the United Nations High Commissioner for Refugees remain committed to continue supporting a peaceful and durable solution to the situation of the residents of the camp.
UN.org