A memorandum outlining the voluntary relocation of Iranian dissidents in Iraq must be honored for the sake of peace, the U.N. special envoy to Iraq said.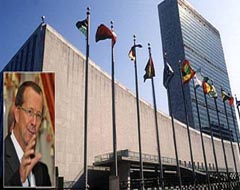 In December, Baghdad and the United Nations signed a memorandum of understanding outlining the voluntary relocation of members of the People's Mujahedin of Iran from their enclave in Diyala province to Camp Liberty in Baghdad.
Maryam Rajavi, who considers herself the head of an Iranian government in exile, said after the signing that 400 residents of the Diyala camp were ready to relocate to Camp Liberty. There are an estimated 4,000 people in the Diyala enclave and the Camp Liberty facility can house more than 5,000.
Martin Kobler, U.N. special envoy to Iraq, said ensuring the Camp Liberty facility meets international humanitarian standards moves voluntary relocation plans closer to reality.
"The United Nations' consistent position is that a violent outcome is unacceptable," he added.
Kobler said the United Nations is ready to help Iraq organize the voluntary relocation.
Members of the PMOI were used as a paramilitary force by Saddam Hussein but surrendered to invading U.S. forces in 2003. Europeans have relaxed their stance on the organization, though Washington lists it as a terrorist group.