Kobler urges Iraq to cooperate to complete the transfer of the remainder residents of Ashraf camp / Liberty /.
The Special Representative of the United Nations in Iraq, Martin Kobler urged Iraqi government to

cooperate to complete the transfer of the remaining residents of Camp Ashraf to Freedom Camp / Liberty /.
The United Nations mission in Iraq / UNAMI /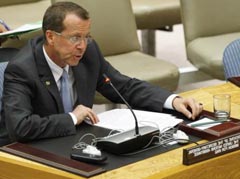 quoted Kobler as saying in a press release today: "almost six months passed since the signing of a memorandum of understanding between the United Nations mission to help Iraq and the Iraqi government to move the residents of Camp Ashraf to camp freedom peacefully, almost 2,000 residents transported in a peaceful and orderly to the camp of freedom and the remaining residents are 1200 residents only."
He added: "It is important to complete the transfer process in the coming weeks, so we rely on the constructive spirit of all parties," reminding the Iraqi government" its responsibility for the safety and security of the residents and not to resort to non-peaceful means".
He continued "The Iraqi government is the only negotiator part with the UN mission about the residents of Camp Ashraf, Camp Liberty, according to the memorandum of understanding, we will continue to emphasize the respect of the principle of non-Forced relocation and that will not deport any of the people involuntarily to his homeland".
He noted that "it is necessary for the international community to accelerate its efforts to resettle the population outside Iraq urgently," stressing that "the United Nations will remain a partner in the process of peaceful and voluntary transfer and this is not negotiable."
Ninanews.com