MEK backers exploit loopholes in French law
Maliki's adviser: MEK backers exploit loopholes in French law to engineer false arrest of Camp Liberty chief
Prime Minister Nouri Al Maliki's media advisor Ali al-Moussawi said on Thursday 21 June that the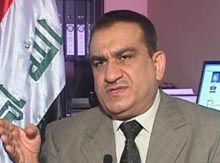 Iraqi government considers the detainment of one of its officials to be an abuse of the French Judicial system. Pointing out that lawyers fees were paid to follow the case, al-Moussawi pointed to the absence of any evidence against the official.
Al-Moussawi told reporters, "The Iraqi Embassy in France commissioned a lawyer to follow the case of Sadeq Kazem, who is Director of Camp Liberty near Baghdad", noting that "the lawyer had his client released after it was found there was no evidence or documents to support the allegations against Mr Kazem".
He said that the detention of Sadeq Kazem was "a real abuse of justice and the French justice system," pointing out that "this will not alter Iraqi-French relations."
The French authorities also stated that there was no doubt about the innocence of Mr Kazem and there was no evidence to support his detention. The MEK backers had taken advantage of loopholes in French to engineer the false detention on Thursday.