MKO refuses to move its remaining members to Camp Liberty
In spite of the best efforts of UNAMI, the US and EU representatives, the Government of Iraq and other Iraqi NGOs, the Mojahedin Khalq organisation have reneged on its agreement under the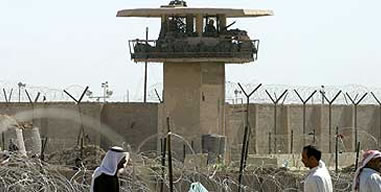 Memorandum of Understanding to allow the remaining residents of Camp Ashraf to transfer to Camp Liberty[Temporary Transit Location] on Wednesday.
The MEK called a halt to the move – which was already underway – on the pretext that Camp Liberty lacked the minimum of humanitarian needs. Earlier, Iraqi authorities had met all the MEK's latest demands and allowed the MEK to transfer air conditioning units and refrigerators and other equipment.
UNAMI had agreed the Iraqi deadline of July 20 for the closure of Camp Ashraf, but have been unable to negotiate with the MEK to evacuate the camp. In spite of having many its unreasonable and ever increasing demands, the MEK has again blocked progress. This leaves no other option than for the international community to support the Government of Iraq in enforcing Iraqi law. The MEK will be solely responsible for the outcome.