The United States expressed concern on Wednesday over Iraqi threats to force an Iranian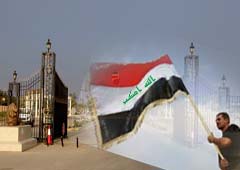 dissident group out of a camp in Iraq, but also urged members of the group to relocate voluntarily to a large former U.S. military base in Baghdad.
Iraqi authorities have been locked in a protracted dispute with the Mujahadin-e Khalq (MEK) over plans to move 3,000 MEK members from Camp Ashraf, where they have lived for years, to a former U.S. base near Baghdad's airport – a step toward their ultimate expulsion from Iraq.
The Iranian group, which calls for the overthrow of Iran's clerical leaders and was supported by former Iraqi leader Saddam Hussein, is no longer welcome in Iraq under the Shiite-led government that came to power after Saddam's downfall in 2003. Clashes between Ashraf residents and Iraqi security forces last year killed 34 people.
"The United States is concerned by the government of Iraq's reference on July 31 to the possible closure of Camp Ashraf by involuntary relocation of its residents," State Department spokesman Patrick Ventrell said.
"We urge the government of Iraq to remain patient and flexible in seeking a voluntary arrangement for continued relocations, as only a peaceful resolution to the situation at Camp Ashraf is acceptable," he said in a statement.
"We also call on the Ashraf leadership to immediately resume cooperation with the relocation," Ventrell added.
The MEK has complained of poor conditions at the former U.S. base, known as Camp Liberty. Only about two-thirds of the group have moved there. The others, around 1,200 people, are refusing to leave Camp Ashraf. None have moved since May, U.S. officials say.
Iraq on Tuesday told them they have to move or it would be free to transfer them "to where we find appropriate," as Iraq's National Security Advisor Falih al-Fayadh put it.
Ventrell said U.S. government officials who have recently visited Camp Liberty did not find the "dire humanitarian conditions" that MEK members had alleged. He noted that Iraq had delivered goods demanded by Liberty's residents two weeks ago. These included air conditioners, generators, food and water tanks.
"It is clear that the quality of life (at Camp Liberty) exceeds accepted humanitarian standards," Ventrell said.
"The continued intransigence of the residents' leadership in placing preconditions and making demands prior to any agreement to relocate further Ashraf residents is unacceptable," he said, adding that finally closing Ashraf would let the United Nations, the United States and others focus on a "durable solution for the residents' relocation outside of Iraq."
The United Nations has been interviewing members of the Iranian group and approaching foreign governments to ask that they accept them for resettlement.
The United States has warned the MEK that its cooperation in moving from Camp Ashraf would be a key factor as the United States weighs whether to remove it from the U.S. list of foreign terrorist organizations.
Also known as the People's Mujahideen Organization of Iran, the group led a guerrilla campaign against the U.S.-backed Shah of Iran during the 1970s, including attacks on U.S. targets. Some Iranians vilify the group for allying itself with Iraq's Saddam during the 1980-88 Iran-Iraq war.
(Reporting by Susan Cornwell; Editing by Will Dunham)
Reuters, August 01 2012
http://www.euronews.com/newswires/1605664-us-
concerned-over-iraqi-threats-to-force-iran-dissidents-from-camp/