The Iraqi government on Tuesday told the terrorist Mojahedin Khalq Organization that it must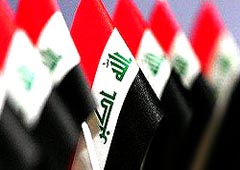 move out of Camp New Iraq, which was formerly known as Camp Ashraf, immediately or be forced to leave, Reuters reported.
Iraqi authorities have been locked in a protracted row with the MKO over their plan to move 3,000 members of the group from Camp Ashraf to a large former U.S. military base, a step toward expelling the group from Iraqi territory.
The United States also said last month that the group should close the camp, saying it was "gravely mistaken" to think there was another option.
"We have reached a dead end (with them) and the extension ends today, they have to move," Falih al-Fayadh, Iraq's national security advisor, told a conference attended by the UN mission in Iraq, aid groups, and Western and Arab diplomats on Tuesday.
"Now we are free to implement the mechanisms required to transfer those who live in (Camp Ashraf) to where we find appropriate."
The MKO started its activities as a terrorist group based in Iraq in the early 1980s. In addition to the assassination of hundreds of Iranian officials and citizens, the group cooperated with Saddam Hussein's Baathist regime in its repression of the Iraqi people.
It took refuge at Camp Ashraf, 65 km (40 miles) from Baghdad, during the 1980-1988 Iran-Iraq war.
The United States added the MKO to its blacklist of foreign terrorist organizations in 1997, but the group has since said that it has renounced violence and has mounted a legal and public relations campaign to have the designation dropped.