A senior Free Syrian Army (FSA) commander described terrorist Mujahedin-e Khalq Organization (MKO, a.k.a. MEK and PMOI) as a role model for him and other Syrian insurgents.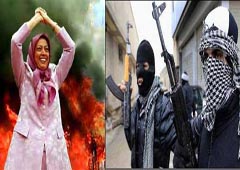 "Mujahedin-e Khalq is our role model, and we inform them that our doors are open to them," Malek al-Kurdi, a deputy commander of the so-called Free Syrian Army, addressed a joint session of MEK and senior figures in the anti-Assad armed rebel groups.
His comments come just days after a highly placed security source told Arabic language Ur news agency that hundreds of terrorist Mujahedin-e Khalq members have entered the chaos-stricken Syria to back the so-called Free Syrian Army.
Another senior official with the insurgent group, calling itself the Free Syrian Army, thanked the terrorist MKO group for their support for and solidarity with the armed rebels in Syria.
Late last week, Habilian Association website reported that the elements of the terrorists Mujahedin-e Khalq Organization were working hand-in-hand with armed rebel groups in Syria.