An Iranian opposition organisation said on Saturday it is ready to move another group of its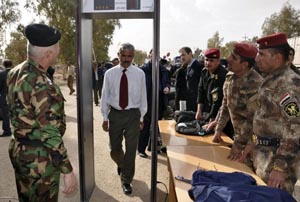 Iraq-based members to a new site near Baghdad after a delay which has dragged on for several months.
"As a gesture of goodwill, the residents of Ashraf will commence the 6th convoy of 400 residents from Camp Ashraf to Camp Liberty on August 23," Maryam Rajavi, president of the National Council of Resistance of Iran which includes the People's Mujahedeen Organisation of Iran, said in a statement.
In return, Rajavi said she expects Washington to renew "its commitments to the approach to delisting" the PMOI as a terrorist group, resolving "humanitarian issues" at the new site and ensuring "the safety and security" of its residents.
The PMOI and its affiliates have issued a torrent of statements complaining about living conditions at Camp Liberty, a former US military base near Baghdad to which its Iraq-based members estimated to number 3,200 began relocating from their long-time base of Camp Ashraf in late February.
For several months, the 1,200 PMOI members remaining in Ashraf have refused to move to Liberty as a result of those complaints. Were the 400 to move on Thursday, it is not immediately clear when the remaining 800 would be transferred.
They are moving from Ashraf to Liberty as part of a deal between the United Nations and the Iraqi government that aims to see the exiles relocated outside the country.
The US has said that moving from Ashraf could facilitate the group's removal from the terror blacklist.
UN envoy Martin Kobler, who has been working to resolve the issue but has been the target of a barrage of PMOI attacks for the alleged poor conditions at Camp Liberty, welcomed the announcement that the 400 exiles were ready to move.
His office said in a statement that "the United Nations calls upon the remaining residents of Camp Ashraf to also start preparations for additional convoys to Camp Hurriya (Liberty), in order to peacefully complete the relocation process."
The leftwing PMOI was founded in the 1960s to oppose the shah of Iran, but took up arms against the country's new clerical rulers after the 1979 Islamic revolution.
Now-executed Iraqi dictator Saddam Hussein allowed the PMOI to establish Camp Ashraf near the Iranian border after he launched the 1980-1988 war against Iran in which the group reportedly fought alongside his forces.
He also provided financial backing to the group, which has since said it has renounced violence.