The last major group of Iranian exiles has relocated from their long-time base to a new site near Baghdad as part of a process that aims to see them resettled outside Iraq, the United Nations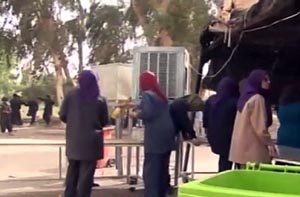 said on Sunday.
"The Special Representative of the Secretary-General (SRSG) for Iraq, Mr Martin Kobler, today welcomed the news that the last major relocation convoy of residents from Camp Ashraf… has arrived in Camp Hurriyah (Liberty)," a statement from the UN mission in Iraq said.
"In total, 680 residents moved in the convoy today. Of the 3,280 residents originally in Camp Ashraf, only a small group now remains on a temporary basis to arrange the details pursuant to the closure of the camp," it said.
Camp Ashraf is the base Saddam Hussein permitted the People's Mujahedeen Organisation of Iran (PMOI), a group opposed to the regime in Tehran, to establish in Diyala province in the 1980s, during the eight-year war with Iran.
PMOI spokesman Shahriar Kia previously told AFP that around 200 PMOI members would remain in Camp Ashraf in an attempt to sell the group's property there.
The exiles are moving from Ashraf to Liberty, a former US military base, as part of a December 25 deal between the United Nations and the Iraqi government that aims to see them relocated outside the country.
Kobler called in the statement for "the international community to speed up its efforts to accept residents in third countries."
The leftwing PMOI was founded in the 1960s to oppose the shah of Iran, but took up arms against the country's new clerical rulers after the 1979 Islamic revolution. It said in 2001 that it had renounced violence, and Ashraf was disarmed following the 2003 US-led invasion of Iraq.
The US State Department has blacklisted it as a terrorist organisation since 1997, and says PMOI members carried out a large number of attacks over several decades against Iranian targets, and also against Americans.
The United States has said that moving residents from Ashraf could facilitate the removal of the terrorist designation, as it has been in Europe.