Hamed Moradi is the third person to run away Temporary Transit Location (Camp Liberty) during the two past weeks. He is from Khoramabad, Lorestan. Previously Mr. Hassan Sharqi from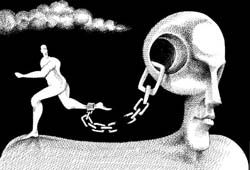 Shahsavar, Mazandaran and Mr. Ablodkarim Ebrahimi from Ilam succeeded to escape camp Liberty after 24 years of imprisonment in the cult of Rajavi.
Following their release, families of other cult members who are from the above mentioned cities have been contacting us in the hope of getting news about their loved ones held as hostages in the MKO. They have had no news from their children in 10 to 30 years of their imprisonment. Regarding the recent escape from the cult and their eventual contacting with their families, other families got hopeful to see the release of their families.
Although, they are told that their children have no access to telephone unless they step out of the Camp, they think that all members were released. A mother's message from Ilam:"For God's sake, tell my son, Sattar Kheiri to call his old mother, I'm dying."
Translated By Nejat Society