Money Talks: The Mujahideen-e-Khalq Episode as the Fundamental Display of Washington Lobbying Power
If you want to understand how things get done in Washington, perhaps the best lesson of the
year comes from the State Department's decision late Friday to remove the Iranian exile group Mujahideen-e-Khalq from the official list of Foreign Terrorist Organizations. The MEK never really lessened the activities that got it listed as a Foreign Terrorist Organization in the first place; in fact, they have intensified inside Iran. No, their path to de-listing came simply from buying off practically every prominent figure in Washington and rallying DC opinion to their side. It didn't hurt also that the object of their terrorist activities happens to be a foreign country we don't like.
But truly, the MEK went about securing their de-listing the way an oil company would secure a subsidy in an energy bill or the way a developer would secure an earmark for a new road near one of their land holdings. They just bought a bunch of lobbyists, spending millions of dollars to change their public image. And it paid off.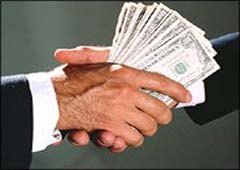 The campaign to bury the MEK's bloody history of bombings and assassinations that killed American businessmen, Iranian politicians and thousands of civilians, and to portray it as a loyal US ally against the Islamic government in Tehran has seen large sums of money directed at three principal targets: members of Congress, Washington lobby groups and influential former officials.
Prominent among the members of Congress who have received fund is Ileana Ros-Lehtinen, the chair of the House of Representatives foreign affairs committee. She has accepted at least $20,000 in donations from Iranian American groups or their leaders to her political campaign fund.
Other recipients include Congressman Bob Filner, who was twice flown to address pro-MEK events in France and has pushed resolutions resolutions in the House of Representatives calling for the group to be unbanned. More than $14,000 in expenses for Filner's Paris trips were met by the head of an Iranian American group who also paid close to $1m to a Washington lobby firm working to get the MEK unbanned.
A Texas Congressman, Ted Poe, received thousands of dollars in donations from the head of a pro-MEK group in his state at a time when he was a regular speaker on behalf of its unbanning at events across the US, describing the organisation as the ticket to regime change in Iran.
It goes on and on, with money funneled to members of both parties, and lobbyists hired from the ranks of former elected officials on both sides as well. Luminaries like Ed Rendell, Howard Dean, Bill Richardson, Tom Ridge, Newt Gingrich, Rudy Giuliani and more were all paid to extol the virtues of the MEK. Big time lobby shops like DLA Piper, Akin Gump Strauss Hauer & Feld, and DiGenova & Toensing took $1.5 million in the last year alone to work on lawmakers and the State Department to get the de-listing. Former Attorney General Michael Mukasey, former Chairman of the Joint Chiefs of Staff Hugh Shelton, former FBI Director Louis Freeh, former national security advisor James Jones and more all took MEK money and praised the organization. MEK also paid members of the Beltway media to further their efforts. Virtually everyone with a name in Washington got some piece of the action.
MEK got its money for this high-scale lobbying effort from the Iranian exile community, which has as its goal the overthrow of the current government in Iran. Their old benefactor was Saddam Hussein, who had exactly the same goal. Basically Saddam kept this group of militants on the border with Iran as his personal strike force, and George W. Bush cited the sheltering of the MEK as one of the reasons for the need to invade Iraq. All that history was forgotten when the money started flowing.
The subtext for this is that the MEK found it so easy as a known terrorist group to toss money at everyone in Washington and find purchase because their goals to overthrow Iran's government lines up with what would be termed "pro-Israel" policies. You're allowed to engage in terrorism, then, as long as you do it against an enemy of the United States, and in the best interest of an ally of the United States.
Glenn Greenwald takes five lessons from this episode, all of them worthwhile. Note in particular the parallels between DC establishment advocacy for a Muslim terrorist organization and the type of advocacy for other terrorist groups, which will get you prosecuted and thrown in jail faster than you can say "My Speaker's Bureau fee is $25,000." There's also this:
The US government did not even pretend that terrorism had anything to do with its decision as to whether MEK should be de-listed. Instead, they used the carrot of de-listing, and the threat of remaining on the list, to pressure MEK leaders to adhere to US demands to abandon their camp in Iraq. But what does adhering to this US demand have to do with terrorism? Nothing. This list has nothing to do with terrorism. It is simply a way the US rewards those who comply with its dictates and punishes those who refuse.
Terrorism, at least in its applied sense, means little other than: violence used by enemies of the US and its allies. Violence used by the US and its allies (including stateless groups) can never be terrorism, no matter how heinous and criminal.
I think the biggest lesson is that it exposes this industry of ex-elected officials and hangers-on in Washington that form a shadow government with tremendous power, which they use in service to whoever hires them. The lobbyist class around these former policymakers makes them in many ways stronger than when they were allegedly setting policy in the first place. This way, they can actually write the legislation instead of taking dictation about it.
By: David Dayen ,Firedoglake.com