The congressional team led by Dana Rohrabacher, a California Republican, met the MKO terrorists in Paris on Sunday and expressed strong support for the group.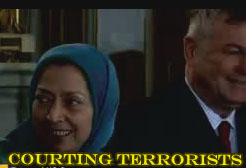 The US congress members called for the immediate transfer of the MKO terrorists to Camp Ashraf in Iraq's Diyala Province. The American legislators even threatened to declare Iraq's Prime Minister Nouri al-Maleki a sponsor of terrorism after an attack on the terrorist members inside another camp in Iraq.

The mortar attack, which happened earlier this month on Camp Liberty near Baghdad, left at least seven members of the terrorist group dead and more than 50 others wounded.

Members of the MKO terrorist group are being transferred from Camp New Iraq, formerly known as Camp Ashraf, which is situated about 120 kilometers (74 miles) west of the border with Iran, to Camp Liberty near Baghdad Airport.

The MKO is listed as a terrorist organization by much of the international community.

On September 28, the terrorist group was taken off the US State Department's terrorism blacklist a week after US Secretary of State Hillary Clinton sent the US Congress a classified memo about the move.

The MKO fled to Iraq in 1986, where it received the support of Iraq's executed dictator Saddam Hussein, and set up its camp near the Iranian border.

The MKO has carried out numerous acts of violence against Iranian civilians and government officials.