Vain Attempt to Question the UN Legitimacy
MKO fails to understand that it is making a futile attempt to question the legitimacy of the UN
The undeniable fact about the UN is that it is a recognized unique international character along with its affiliated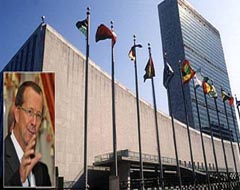 councils, bodies and committees. It has a global responsibility to fulfill and works on a broad range of fundamental issues and if it ever engages itself in solving regional differences, disputes and conflicts, that is because to achieve greater general causes and to coordinate efforts for a safer world. In the same way, when the UN Secretary-General officially appointed Mr. Martin Kobler as his Special Representative for Iraq and Head of UNAMI on 11 August 2011, he tasked Mr. Kobler with sensitive duties to take up. As Mr. Kobler said upon his arrival in Baghdad, "I am privileged to be here to contribute to serving and assisting Iraq and its people at a time when the country is going through an important phase in its transition towards a peaceful and prosperous state".

As a matter of fact, Mr. Kobler is not in Iraq to deal with the never-ending problems, better to say non-stop excuse makings, of an outcast terrorist group that has no respects for internal or international agreements. As a coordinator to help solve one among many problems in Iraq, Mr. Kobler did his best to mediate a settlement between the Iraqi government and Mojahedin Khalq Organization (MKO, MEK, PMOI, MCR, NLA). The issue of Camp Ashraf, MKO's bastion located in eastern Iraq, has been one of the main issues dealt with by UNAMI for more than two years. In line with a memorandum of understanding signed in December 2011 by the UN and the Iraqi Government to resolve the situation, the Ashraf residents were re-located to a transit location near Baghdad known as Camp Liberty to carry out a process to determine refugee status again by another office of the UN, UNHCR.

But Mr. Kobler, unfamiliar with MKO's unconventional thanksgiving, never anticipated that his humanitarian efforts would leave him the most hated and despised man in the eyes of MKO along with Iranian and Iraqi officials. Strong condemnation of Mr. Kobler's efforts and announcing his boycott as well as seeing him biased and siding with Iran and Iraq regimes is not an unprecedented campaign since MKO's safe settlement in Camp Liberty. Even after the recent mortar attacks against Camp Liberty, Mr. Kobler did not hesitate to request the Iraqi authorities to ensure medical care for the wounded and confirmed that all those injured have been hospitalized. However, the most unethical, shameful attack against him that raised outcry from sensible politicians was made after the bloody incident when Rudy Guiliani, the former New York mayor, lambasted Mr. Kobler saying:

"You allowed it to become a concentration camp and you permitted it to become a killing field. You shouldn't resign. Ban Ki-moon should fire you today."

While the UN monitors are still on the ground and Mr. Kobler has asked the Iraqi authorities to promptly conduct an investigation into the mortar explosions, why is MKO pressing the UN's head to dismiss his Special Representative for Iraq? That is mainly because Mr. Kobler has a general and humanitarian cause to fulfill rather than bowing down to irrational, impractical demands of a terrorist cult; that is because he cannot be bought and exploited as many other paid advocates of the group like Rudy Guiliani himself; that is because his efforts to redeem the enslaved insiders goes against the group's barbaric plots to victimize them; that is because he played a decisive role in closing the cult's bastion and returning the occupied lands to their real owners and … .

Mr. Kobler is not easily corruptible and cannot be manipulated as a stooge of MKO's propaganda campaign; he is experienced enough not to be trapped in group's provoked propaganda brawls and keeps away from rebutting unproven allegations leveled against him. In contrast to MKO's press to be recognized an entity with exclusive privileges and rights, Mr. kobler insists to devote efforts to recognize the rights of the insiders as human beings with the rights of deciding for a free life in a third country. MKO fails to understand that it is making a futile attempt to question the legitimacy of the UN and its representatives. An effective cooperation is a more sensible approach, a right path which MKO is unfamiliar with.