Open Letter to Catherine Ashton
Dear Lady Ashton,
Iran Interlink closely monitors the ideological and behavioural activities of the Mojahedin Khalq organisation and recent information concerning this group forces us to be blunt in our warnings to you.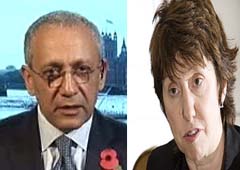 More than anyone else you are aware that alongside the optimism for a negotiated settlement of the long running nuclear issue between the United States and its allies and Iran, various parties – Israel, Saudi Arabia, members of the US Congress – are trying hard to prevent any moves toward rapprochement. In particular, since Israel's political efforts have failed to do this, we believe we will now see the ugly face of Israel through its deployment of the terrorist Mojahedin Khalq cult.
In the past few days information from inside the MEK base in Paris has revealed that intense talks have taken place between the MEK and an Israeli handler about this issue. Although this is an Israeli initiative the MEK are negotiating with every option on their table; killing their own members in Iraq and western cities through self-immolations or deaths attributed to hunger strikes, and/or targeted killings and assassinations in Iraq and/or western cities for which others are blamed (the government of Iraq or Iranian opposition groups, or the Iranian government). The MEK's role, based on its track record and current capabilities, will be to destroy trust by creating 'evidence' of violent and devious activity by Iran, backed up by a well-financed propaganda blitz to 'prove' its case.
Lest there be any doubt about the reality and seriousness of this potential threat let us recap events over the past few weeks to demonstrate how easily this scenario can get out of hand.
Following the September 1st killings at Camp Ashraf in Iraq the MEK made these two false claims which, through uncritical and paid media and lobbyist repetition, have unfortunately taken on the semblance of accepted facts.
1. Iraqi security forces stormed Camp Ashraf and killed 52 people.
2. Iranian Revolutionary Guards kidnapped seven MEK members from the camp and turned them over to the Iraqi Prime Minister's office which has hidden and tortured them and still holds them.
Neither of these allegations have been found to be true and the Government of Iraq has repeatedly dismissed them as MEK propaganda. Instead, questions remain whether the killings were an internal MEK action. No independent agency dealing with the MEK on the ground – whether UNAMI or representatives of the American embassy in Baghdad – has offered any reason or evidence on which to base further investigation into the MEK allegations other than to establish what really happened.
However, you will remember that the MEK acting through one of their intermediaries in the European Parliament, Alejo Vidal Quadras of the Iraq Delegation, set you up to fall victim to affirming this false information through your letter to him, clearly issued in good faith, on 19 September. The intervention by Vidal Quadras was timed to coincide with your meeting with Iraqi FM Hoshyar Zebari and would no doubt have gone some way to increase mistrust.
On 10 October the European Parliament used your 'corroboration' as the basis for a resolution which repeats this misinformation: The European Parliament adopted a resolution which strongly condemned "the attack on Camp Ashraf on 1st September 2013 by Iraqi forces which left 52 Iranian refugees dead and the abduction of 7 residents including 6 women who, as stated by High Representative Baroness Ashton, are believed to be held in Baghdad, and calls for their immediate and unconditional release."
Struan Stevenson, Chair of the Iraq Delegation and a long term MEK advocate, has shown himself happy to welcome and exploit any resulting breakdown in EU-Iraq relations. What interpretation are we to give this except corruption of the European Parliamentary system.
But so much for the use of propaganda. The real threat posed by the mercenary MEK terrorist cult is as a tool in the hands of the Israelis. Its role is to disrupt any diplomatic process involving Iran at any cost using any means at its disposal. In this respect the MEK's capabilities are somewhat limited. They are capable of violence in the streets of Geneva through targeted assassination or self-immolation or a death attributed to hunger strike. But in Iraq, as the events of September 1st demonstrate, the MEK enjoys a free hand when it comes to controlling, and disposing of, the lives of its own members. Sadly, the MEK's Iranian supporters in western countries are so befuddled by the group's indoctrination process that they do not realise that the lobbying advocates are paid and do not have any stake in the group or its future. They sincerely believe that the MEK is a real opposition supported by important political and military figures in the American establishment.
Paid lobbyists without scruple demand UN blue hat protection for the members at Camp Liberty to prevent further attacks. However, this is far from the MEK's intention. MEK tactics now demand more bloodshed to prove its victimhood. Whether this is achieved in Europe or in Iraq, MEK activity will directly impact your negotiation process. The residents of Camp Liberty are in danger because the MEK leaders want to shed their blood.
The security of meetings held in Geneva is not in your hands, nor is it in the hands of Iran, but violent activity will have dire consequences for all sides. It is important to put the MEK where it belongs – it has no place in the political process. The group is purely a brand and a tool. Once a group is named as a tool in the hands of paying masters then it loses its potency. The MEK has no independent existence. You must look to the people who issue the orders to find out how to counter its influence.
Close observation of MEK activity and recent key information points incontrovertibly to the use of violence to disrupt the Geneva meetings and destroy every effort to create trust between the negotiators. Our advice: talk to the MEK's masters and warn them off this initiative.
posted on iranian.com