Disappointed and frustrated, the mujahedin Khalq Organization (the MKO) has to keep a bitter silence after Iran and the P5+1 have ultimately reached an agreement. Despite the MKO's large scale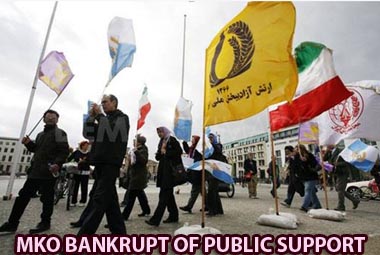 propaganda to create obstacle in negotiations neither international body nor any other government took the group seriously.
After four days of intensive talks, representatives of the six world powers and Iran reached an agreement in the early hours of Sunday, Nov.24,2013 . The agreement was acceptable to both sides. A lasting deal between Islamic Republic and the West will pave the way for further reconciliation. This is what the MKO feared the most.
In particular, the MKO leader Maryam Rajavi, the self claimed "president elect" of the National Council of Resistance who had called for "full suspension of nuclear project has been always faced with a crucial challenge: she is totally ignored by the world. Besides, she is disappointed and distressed since she has been considered an accomplice to deposed Saddam. Her personality cult is stuck in a disastrous condition in Iraq – where it is no more tolerated in Iraq. The cult members have been forced to scatter in different countries across the world. She and her fugitive husband are definitely losing their hegemony over the cult.
The propaganda the MKO has for years launched about the Iranian nuclear program was faced with a cold shoulder. Furthermore, the alleged 84-day hunger strike (!) by the group supporters and members received no sympathy from anybody in the world. The bizarre long-term hunger strike by the group supporters across the world – as the group PR claims – has not been covered by the mainstream media. Even though its accusations on Iranian nuclear project has been quoted –actually copied and pasted– by the media from time to time, it has never been considered significantly.
Indeed, the MKO does not enjoy the support it claims it has even among the Iranian Diaspora. The evidence is seen in the photos and videos published on the alleged demonstrations around the world. In the so-called rallies and protests hired crowd and sand bags are playing the role of Iranian supporters of the MKO!
The declining phase of the cult of Rajavi started 3 decades ago when it first yielded itself to the Iraqi dictator, Saddam Hussein, and took arm against its own countrymen, but today the process is accelerated due to important evolutions taken place in the world political scene.
By Mazda Parsi