There are rumours that Mojahedin Khalq leader Massoud Rajavi is contemplating whether and where it would be safe for him to resurface after going to ground during the 2003 invasion of Iraq. But in Europe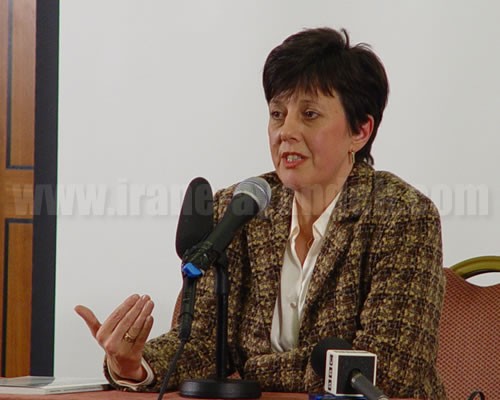 his wife, Maryam Rajavi, is herself keen to expand her reach. According to a source inside the organisation, Maryam Rajavi has recently been 'encouraged' to apply for a visa to the United States of America. Maryam is currently based in Auvers-sur-Oise just outside Paris, from where the MEK plans and supports its various acts of violence including aiding the insurgency in Iraq. From here she has been able to exploit the lack of effective oversight in the European Parliament in Brussels to join with anti-Iran politicians in their drive to prevent any rapprochement between western governments and Iran, and to support a level of violence and chaos in the region which benefits Israel. With no other tools at their disposal, neoconservatives and the Israeli lobby have spent years using the MEK – at arms length – to pursue their virulent, provocative campaign to keep the two sides apart. (Matched equally of course by former president Ahmadinejad's calculated provocations; both sides playing the same game with different footballs.)
Maryam Rajavi's application for a US visa is embedded in the context of this deliberate animosity.
Certainly because the European Parliament has no foreign policy teeth, Maryam Rajavi tried for over a decade to obtain a visa to visit the UK to promote this agenda; even unsuccessfully using private health treatment as an excuse. Either the system of border control in the UK is more rigorous than it is rumoured to be, or the UK government considers Maryam Rajavi persona non grata. Either way – or both – she has not been welcome in the UK.
But the efforts of MEK backers like MEP Struan Stevenson failed to make an impact. The successful P5+1 nuclear talks with Iran in November 2013 have put rapprochement, no matter how difficult, back on the agenda. Anti-Iran advocates and promoters have been forced to try a new tack – attack Iran's record on human rights. Again, at the forefront of this push is the MEK. Preparations to use the MEK have been in train for some time. The group's US presence has been carefully managed since 2009 when Iraq moved to expel the MEK from its terrorist base there. There has been a concerted, well funded campaign to whitewash the group's past and pass it off as a democratic, feminist opposition group. Fortunately, only the MEK's western backers have convinced themselves there is some truth to this assertion, and this comes at a price – speaking fees paid to them range from $25-60,000 each time.
In September 2012 Hillary Clinton, as Secretary of State, reached an accommodation with the MEK over its continued occupation of this base, Camp Ashraf, and removed the MEK from the US terrorism list. By early 2013 the MEK had opened an office in Washington and registered, under its pseudonym the National Council of Resistance of Iran (NCRI), as a lobbying group. Interestingly, registration as a lobby group includes a declaration that no money is provided by a foreign government, which raises the question as to where the MEK gets its money within the USA. Previous claims that wealthy Iranian expatriates have backed the MEK's massive expenditure are unrealistic and in any case have never been backed by any evidence.
Instead, we can join up more than a few dots by considering the MEK's current place in American foreign policy and linking this back to its previous position as described above. Rep. Ileana Ros-Lehtinen, who is Chair of the House Subcommittee on the Middle East and North Africa has been a long time supporter of the MEK, and recently described 'her friend' Maryam Rajavi as a human rights advocate – a description which is nonsense to American-Iranians.
In pursuit of an agenda to prevent rapprochement, hardliners (I mean neoconservatives) in America surely aimed to slip Maryam Rajavi into Washington during the next round of nuclear negotiations next week (5-9 May). On the heels of the controversy over denial of a visa to Iran's appointed head of mission at the United Nations in New York, this would indeed have been a poke in the eye to goad Iran with. But whatever incentives have been offered by Ros-Lehtinen to John Kerry to nod through this visa application, the US Secretary of State will no doubt have lent an ear to the voices of the other members of the P5+1 group. It would mean that, after Saddam Hussein, the United States would be the only government in the world which has directly supported the MEK. It would mean that the other members of this group would drift further and further away from the US agenda, and it would mean that Iran would make a net gain rather than the US. Fortunately this time the administration has not fallen into Ros-Lehtinen's honey trap. But who knows what may happen in future.
Anne Khodabandeh (Singleton), Middle East Strategy Consultants,