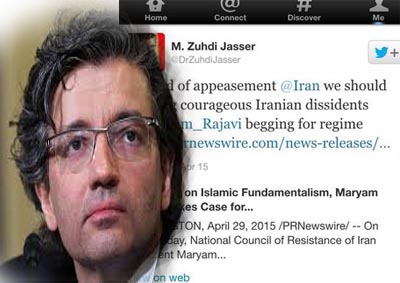 Is there a neo-con war that the sad Zuhdi Jasser will not support or advocate? If you recall, Zuhdi was a cheerleader for the invasion of Iraq in 2003, now he is praising Maryam Rajavi, leader of the cult group, the Mujahideen-e Khalq (MEK), a group that Seymour Hersh revealed received training from the CIA.
The MEK was a designated foreign terrorist organization until it was taken off the list in 2012 due to the lobbying efforts of former government officials.
In his twit post, Jasser asserts, "Instead of appeasement Iran we should heeding courageous Iranian dissidents Maryam_Rajavi begging for regime change".
Zuhdi Jasser purports to be a representative of the "moderate" Muslims of the United States but reportedly he is nothing but a tool of the right wing who uses him to justify their stereotyping and propagandizing about Muslims and wars in the Middle East.
Nejat Society reporting from LOONWATCH.COM