On Tuesday, May 16th the tenth meeting of Nejat Society Isfahan Branch was held on the occasion of the return of Siamak Hatami, a defector of MeK, to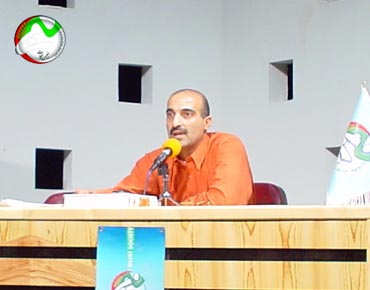 Iran.
During the meeting, Mrs Yazdan Parast a member of the Society presented the schedule of the meeting and invited the audience to watch the film of Mrs. Marzie Qorsi's Return.
The film imprisoned the audience a lot since she hadn't seen his son for ten years.
During the other stage of the meeting Mr. Hashemi the President of Isfahan Nejat Society, presented a report of the Society 's activities in recent months including a meeting in Kashan on the occasion of the return of Mr. Najafizadeh, a meeting with several German lawyers, foundation of Nejat Society office in Kerman and also visits with some European researchers…
Then Mrs. Baba Safari the sister of one of defectors who had returned to Iran previously, explained her efforts to meet his brother and convince him to return home. She noted the correspondence of families with international organizations. Mrs,Yazdan Parast also declared why the process of separation has become slower recently. She noted that"… MEK has distributed some forms among the members and asked them to fill them out in order to get refugee status.
However we welcome any factor that causes the members leave the Camp Ashraf…
She also read an appeal letter to Iraqi and British embassies. US interests office in Swiss Embassy and UN office and IRC office in which a member of families asked to have the permission to visit their children, contact them by telephone. The families signed this letter.
Behrouz Nazarian, another former member who had been a member of MEK for 17 years explained how he joined the MeK and separated from them.
Siamak Hatami was another person who addressed the audiences during this meeting, he described the 14 years he passed in Ashraf and appreciated Islamic Republic's efforts to liberate the members.
At the end the families talked to defectors showing the pictures of their children in order to get information of their beloved ones.