The 7 June attacks in Tehran struck at the symbolic heart of Iran's revolutionary republic. In this Q&A, Ali Vaez, Senior Analyst for Iran, says the outrages show how the region's proxy wars are now reaching far beyond the battlefield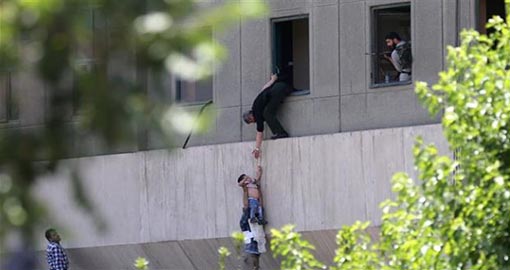 How unusual are these attacks for Iran?
If this indeed was, as it claimed, an attack by the Islamic State of Iraq and Syria (ISIS), it would constitute the first time the organisation has been able to strike Iran inside its borders. But terrorist attacks are not new to Iran. In the early years of revolutionary turmoil, the leftist-Islamist Mojahedin Khalq (MEK) resorted to violence. In the 1980s, up to 120 terrorist attacks occurred in Tehran perpetrated by MEK and other violent groups, killing hundreds of Iranian officials, including the president and prime minister in August 1981. Even the current supreme leader, Ayatollah Khamenei, was targeted. He survived the assassination attempt, but lost full use of his right hand.
Consequently, the Islamic Republic developed a powerful counter-terrorism capacity through intelligence and security forces that, along with its paramilitary Basij militia, turned Iran into one of the most stable countries in the region – at the cost of highly repressive methods. The only exception to Iran's successful counter-terrorism record was the assassination of Iranian nuclear scientists at the height of the standoff over Iran's nuclear program. But those were targeted assassinations as opposed to indiscriminate terrorist attacks.
That ISIS had failed to attack Iran up until now wasn't for lack of trying. There have been multiple reports of foiled attacks in several Iranian cities. According to Iranian officials, Iran's intelligence agencies detected and dismantled 58 ISIS-affiliated terrorist groups in the past few years. In March 2016, the Iranian army reported killing two alleged ISIS recruits in the western province of Kermanshah. In June 2016, Iranian media reported the arrest of eighteen people who were trying to recruit new members through social media. In August that year, the Iranian intelligence minister said that authorities had prevented 1,500 young Iranians from joining ISIS. In recent months there was an uptick in its propaganda against Tehran as ISIS published a rare video in Persian in March, encouraging Iran's Sunni minority to wage a religious war against the Shia ruling elite.
The attacks are in all likelihood linked to the extreme sectarianism of the fighting in Iraq and Syria. Iran, a Shiite Muslim power, is heavily involved in both conflicts. Salafi and Sunni Muslim groups like ISIS have long heaped vitriol on the Shiites.
In this sense, it's not the attacks that are surprising, it's that Iran was able to avoid one for so long. The attacks were a wake-up call for Iran's security apparatus, but so too will they probably serve as one for jihadists, who will be encouraged to exploit Iran's vulnerabilities.
What's the immediate impact of this attack?
There are different voices coming out of Tehran. Some in the leadership have sought to downplay the attacks. The supreme leader said the "terrorists fumbling with fire crackers" won't affect Iran, while the speaker of the parliament, where twelve people were killed and many were injured, called them a "trivial incident". The Revolutionary Guards, however, have vowed revenge, drawing an unsubstantiated link between the attacks and a joint Saudi-U.S. effort to push back against Tehran's regional policies. The minister of intelligence, however, has said it is too early to blame the Saudis. Nevertheless, the harsh rhetoric on both sides is likely to exacerbate tensions between Iran and Saudi Arabia and further diminish the already slim chance of any kind of reconciliation anytime soon.
Still, I don't see any immediate escalation of friction between Iran and Saudi Arabia. Neither the leadership in Tehran nor the one in Riyadh appears keen on a direct confrontation. Still, with increased tensions, there is higher likelihood of miscalculation on both sides. And of course, all of this fuels sectarianism in the region, which is a gift to ISIS and al-Qaeda.
What was the symbolism of the chosen targets?
The targets seem to have been chosen in order to maximise political impact rather than fatalities. The assailants targeted two key symbolic pillars of the Islamic Republic, the mausoleum of Ayatollah Khomenei, the founder of Iran's theocratic system, and the parliament, the centre of the country's republican tradition. Assuming that ISIS was the perpetrator, it is striking that it claimed responsibility for the attack immediately rather than wait as it usually does. This is probably because it considers the attack a rare success as it rapidly loses ground in Iraq and Syria.
What do you think the domestic impact will be?
Initially at least the attacks are likely to rally Iranians around the flag, but this could change quickly depending on two key questions: first, will anybody in Iran use the event politically, and how? Secondly, how were the perpetrators able to carry out these attacks?
President Rouhani is fresh from an election in which he received a strong mandate to deliver on his promise of de-securitising the domestic sphere. The attacks, however, could better enable the Revolutionary Guards to resist him and crack down on internal dissent. If Rouhani succeeds in quickly creating consensus around a path forward that would rectify security loopholes, while tolerating a higher degree of political pluralism, he might be able to prevent a counterproductive blame game and deeper polarisation. This could be done through the Supreme National Security Council, which comprises key civilian and military leaders and takes all key national security decisions in Iran. Given Rouhani's extensive experience in the country's national security establishment, he has the know-how to achieve this goal. But at this stage, it is too early to tell whether he will succeed or not.
The answer to the second question is becoming increasingly clear. According to Iranian officials, the perpetrators appear to be ISIS recruits from Iran's Sunni majority provinces, who had fought for the group in Mosul and Raqqa. This could be used as a pretext to crack down in the country's western, south-western, and south-eastern frontier provinces where Iran's 5-10 per cent Sunni population lives. While there is little support for jihadists among Iran's Sunni populations, despite their discontent with their treatment by central authorities, a government crackdown – if harsh enough and pursued long enough – is the kind of thing that could change that. The single most relevant factor in the radicalisation of jihadists is harsh government treatment. Interestingly, turnout in recent presidential elections was high in majority Sunni provinces like Sistan-Balouchestan (75 per cent) and Kurdistan (59 per cent). They both overwhelmingly (73 per cent) voted for the more pragmatic candidate, Rouhani.
What has been the reaction in the region?
Some countries like Turkey, Oman and Qatar denounced the attacks, but others like Saudi Arabia and Bahrain had a muted response. Some will see a comeuppance for a country that has freely interfered and stoked sectarianism in Iraq, Syria, Yemen, Lebanon and elsewhere, until now without a backlash inside its borders. The recent attacks represent a different sort of backlash as well. Iran – like every state in the region – has pulled its punches with jihadists, including al-Qaeda, so long as their guns were turned against Iran's enemies. But tactical relations with these groups often entail collateral damage.
What has been the reaction in the rest of the world?
The U.S. State Department condemned the attacks in strong terms; but President Trump added insult to injury by underscoring that "states that sponsor terrorism risk falling victim to the evil they promote". On the same days as the attacks, the U.S. Congress also voted to advance sanctions legislation against Iran, particularly targeting the Revolutionary Guards. Iranian foreign minister retorted on Twitter: "Repugnant [White House] statement & Senate sanctions as Iranians counter terror backed by U.S. clients. Iranian people reject such U.S. claims of friendship".
Following social media in Iran, I was struck by how much Washington's insensitivity has offended the Iranian public. For years, Iran watchers were baffled by how pro-American the Iranian people remained despite having a highly anti-American government and being exposed to anti-American propaganda for nearly four decades. It appears that the Trump administration, first with its travel ban, then with hostile rhetoric and now with this statement, is succeeding where the Islamic Republic failed in the past 38 years: turning Iranians against the U.S.
For their part, the European and Asian leaders didn't hesitate to do the right thing and condemned the attacks in Tehran no less strongly than they do attacks anywhere else. The attacks are a reminder that the effects of the region's ongoing proxy wars are felt far beyond the battlefield. ISIS's recent losses notwithstanding, so long as those wars and sectarian demonisation continue, we should expect more tragedies of this nature.