Regarding to your recent and formal interview , we would like to inform you, as a representative of English people in the oldest Parliament which is known as the symbol of democracy for more than 500 years , of some important points.
Lord Corbett ! In this interview which had been implemented and carried out by the Persian section of the BBC, without contemplating of the news broadcasting and journalism prestige, you as pmoi lobby had reversed and censored all the realities which are existing inside the pmoi organization . your interview reminds us of the interviews of some characters of the eastern part of the world.
You are saying in this interview that you do not have any desire to know anything about the internal structure and problems of pmoi! And the only thing which is important for you is that pmoi is trying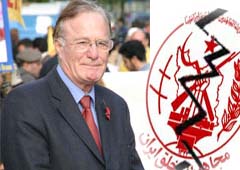 its best to finish and terminate the breach of human rights which is happening in Iran! But you do not answer why is not important for you the internal problems and structure of such organization? And it is more interesting that you do not want to know or hear anything about their internal problems and structure consequently it is very questionable.
Lord Corbett , you should know that we are the people who had lived more than you inside this organization, and our question is ,do you know that what is waiting for the people who have a chance to escape and leave the pmoi organization after 10 or 20 years?
Is it important in your culture the life of the people? and how do they live?
Where have you read or heard as a supporter and advocate of the human rights that the condition for supporting of an organization or a government , is just by supporting their slogans? Is not true that the first condition for supporting an organization or a government or ……etc is to survey and scrutinize the internal relations of such organization or government? Because slogans can be fake and unreal!
While the families of the pmoi members have been waiting behind the gates of Ashraf garrison for more than a year to see their loved ones and their request has been rejected up to now by the pmoi operatives and instead they have been slandered and insulted by the pmoi operatives, how can the leaders of such organization claim the democracy and human rights in their slogans?
Lord Corbett , the essence of fact finding should be existing in any person who claims supporting and advocating for freedom ,the human rights and democracy . This essence of fact finding begets more responsibilities and double your responsibility as a member of House of Lords and House of Representatives and we believe that your first priority as a member of House of Lords should be the fact finding .
Lord Corbett , what are you going to lose if you decide to have a conversation and exchanging views with the separated members of pmoi preferably in front of media? But please listen to our request one more time which is saying that you have judged unilaterally in your interview, but we as the victims of such organization who have inherited many pains and miseries of this organization ,pmoi, and we would like to share all those experiences with you and at the end we would like to hear your respond and opinion ,as a defender of human rights and democracy ,for all those miseries and painful moments that each one of us had experienced in that organization.
According to your speech , you do not receive any money from this passer , consequently you respect to the fact finding , so if in your country and in your capital , London, is not possible to have such meeting with you ,our association , Iran Lantern( Iran Fanoos) is inviting you to have this meeting with the separated members of pmoi in Germany.
Any endeavors and transparency in advancing and deepening the democracy and the freedom slogan has its own impacts and effects.
There is no need to be worried , you are doing your best for freedom and democracy and you can continue your admirable and holy duties after all! But we should say and emphasize that in the world of communication the fact finding will come to the reality much faster and the facts will be revealed at last .
Respectfully
Iran Fanous, Germany