The European Union has agreed to remove the notorious Mujahedin Khalq Organization (MKO) from its list of banned terrorist groups.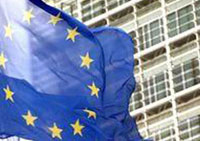 EU foreign ministers approved a decision to remove the outlawed terrorist group from a list that includes Palestinian Hamas and Sri Lanka's Tamil Tigers, an unnamed European official was quoted by Reuters as saying.
The group also known as the "Rajavi cult" named after its leader Maryam Rajavi stepped up efforts to be excluded from the list in 2008.
In November Rajavi met with members of the German Parliament in a bid to rally support for the removal of the group from the European Union's list of terrorist organizations.
The European Court in Luxembourg ruled in December that the EU was wrong to keep the group's assets frozen.
"What we are doing today is abiding by the resolution of the European court," EU foreign policy chief Javier Solana told reporters just before the ministers finalize the decision in a meeting in Brussels.
The MKO, which has been listed as a terrorist organization in Iran and the United States, has a long and bloody history of targeting Iranian civilians and government officials.
Incidents linked with the group include the June 1981 bombing of the offices of the Islamic Republic Party in which 72 high-ranking Iranian officials including judiciary chief, Ayatollah Mohmmad Beheshti, and tens of Majlis deputies were killed.
In the following August the group assassinated President Mohmmad Ali Rajae'i, Prime Minister Javad Bahonar and National Police Chief Ali Dastgerdi at the Prime Ministry building.
The MKO also assisted Iraqi dictator, Saddam Hussein, in the massacre of thousands of innocent Iraqis and is responsible for several acts of terror in Iran including the 1994 bombing of a revered Shia shrine in Mashhad, eastern Iran.
In 2003, French anti-terrorist police arrested 165 members in Paris, including Maryam Rajavi, for 'associating with wrongdoers in relation with a terrorist undertaking.'
More recently, around 10 members of the notorious organization were arrested in France and Switzerland on charges of money laundering on September 29, 2008.