Iran has condemned the removal of the MKO terrorist group from the European Union's terror list.

Earlier today, Iran's Ambassador to Azerbaijan Naser Hamidi Zare' said that exclusion of the group from the list was a new Western trap for the Islamic state, accusing the West of operating a policy of double-standards in dealing with terrorist groups.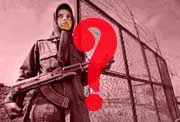 The Ambassador claimed that EU politicians made the decision to leave the group, the Mujahedin Khalq Organization, off the list was because of intense lobbying from the 'Zionist' lobby.
The decision to leave the group off the list is a sensitive for Iran, because the MKO has been blamed for the mass killings of Iranians over the last 30 years.
Tehran has now complained at the EU decision to the United Nations Secretary General, Ban Ki-moon.
Zare' said that the removal of the terrorist organization from the EU terror list had happened after the Iraqi government decided to expel members of the criminal cult who were stationed in Iraq by former Iraqi ruler Saddam Hussein.
The Iraqi government announced in early February that Baghdad would soon close the file of the terrorist organization and expel them from the country.
According to Zare', the EU made the move when Baghdad had confirmed its decision to expel MKO members from Iraq.
Religious Intelligence By Nick Mackenzie