The Iraqi parliament is seriously pursuing expulsion of the anti-Iran terrorist group, the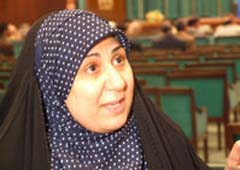 Mojahedin-e Khalq Organization (MKO), from the country, an Iraqi lawmaker said on Sunday.
"Despite pressures exerted by certain bodies to prevent expulsion of MKO, the Iraqi parliament is following the case seriously," Iman al-Asadi, a member of the Shiite United Iraqi Alliance (UIA) – the largest bloc in the Iraqi parliament with 83 out of a total 275 seats – told FNA.
She underlined that expulsion of MKO sets a priority for the Iraqi government.
Reminding pressures on Iraqi government about the MKO's fate, Asadi stated, "What such institutions want is unacceptable. MKO is not valuable for us. We do not recognize them."
Iraq has vowed to return MKO members to Iran or send them to a third country as it holds the anti-Iran group responsible for destabilizing Iraq through its terror attacks.
The MKO moved to Iraq in 1986 where it enjoyed the support of former Iraqi dictator Saddam Hussein who funded the group to work against Iran in the 1980-88 war. The group launched attacks on Iran from its headquarters, the Camp Ashraf, in the northern province of Diyala.
The MKO is also responsible for numerous acts of violence against Iranian civilians and government officials as well as Iraqis during the reign of Saddam.
The group started assassination of the citizens and officials after the revolution in a bid to take control of the newly established Islamic Republic. It killed several of Iran's new leaders in the early years after the revolution, including the then President, Mohammad Ali Rajayee, Prime Minister, Mohammad Javad Bahonar and the Judiciary Chief, Mohammad Hossein Beheshti who were killed in bomb attacks by MKO members in 1981.
The MKO has been in Iraq's Diyala province since the 1980s.