Meeting with Iranian Foreign Minister Manouchehr Mottaki on Tuesday,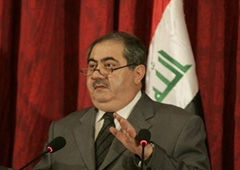 Iraqi Foreign Minister Hoshyar Zebari announced that the Iraqi government would not accept the presence of terrorists in its soil.
Mottaki noted during a joint press conference with his Iraqi counterpart that he had discussed with Zebari in the various areas of political and economic interest of the two countries.
Zebari, in his turn, confirmed the depth of the close ties that bind Iran and Iraq. Stressing the importance of communication and consultation on various issues, Zebari also talked about the activation of the economic side in Iraq.
On the release of Iranian officials held by U.S. forces, Zebari said the Iraqi government is following the issue.
Meanwhile the Iraqi official referred to the presence of members of MKO terrorist group in Iraq and the position of the government towards them and said: "the Iraqi government will not accept the presence of terrorists on its territory and has taken on the evacuation of Camp Ashraf. We will not accept the presence of any armed groups on our soil to attack the interests of neighboring countries.