BAGHDAD – Iraq's state security minister said on Tuesday that no Iranian exiles living in Camp Ashraf on the border with Iran would be granted asylum in Iraq, including 56 he said were wanted in Iranian courts.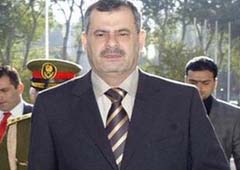 Iraqi forces last week took control of the camp on the Iranian border, home to the People's Mujahideen Organization of Iran (PMOI) dissident group for about two decades, sparking confrontations between police and residents who fear eviction. At least seven exiles were killed in the clashes.
Iraq's Shi'ite-led government has said it wants to close the camp and send residents to Iran or a third country, a proposal they are bitterly resisting. The dissidents fear they will be imprisoned or executed if they are sent home.
Iraqi Minister of State for National Security Shirwan al-Waeli said his country had no qualms about sending them back.
"Iraq will not give asylum (to them) as refugees in its territory and we cannot tolerate groups that cause problems in their countries of origin," Waeli said, but he declined to say when Ashraf would be shut and its 3,500 residents evicted.
Iraq, like Iran and the United States, sees the PMOI as a terrorist organization, although they surrendered most of their weapons to U.S. forces after the 2003 invasion to oust Saddam Hussein.
Iraq took formal charge of Ashraf from the U.S. military in January, under a bilateral security pact.
Some human rights groups and PMOI sympathizers in the West, who have been highly critical of the way Iraq has handled Ashraf, say closing the camp and driving residents out against their will would violate international human rights law.
"Our information says there are only 56 wanted by Iranian judicial courts and the others won't have a problem if they go back to Iran," Waeli said.
The PMOI was given shelter in Iraq by Saddam, who fought an eight-year war against Iran in the 1980s. Iraq's government, which includes former Saddam opponents who lived in exile in Iran, has a close relationship with Iran.
"We don't want problems with our neighbors," Waeli said.
Writing by Tim Cocks; Editing by Sophie Hares
By Tim Cocks and Muhaned Mohammed