36 MKO members arrested in Iraq
Iraqi police have arrested 36 members of the Mojahedeen Khalq Organization (MKO) after clashes erupted between MKO operatives and security forces in Camp Ashraf.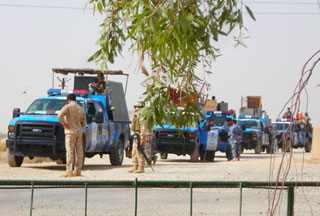 The clashes broke out after Iraqi security forces on Tuesday took over the camp which was run by the terrorist group for almost two decades.
The skirmish left seven camp residents dead and many others wounded. Police said the seven were killed after they threw themselves under police vehicles.
The arrests were confirmed by Abdul Nassir al-Mehdawi, governor of Diyala province.
"Their cases are being investigated now. They are being charged with inciting trouble," he said. "We will deal with them according to Iraqi law; we won't send them back to Iran."
MKO members were under US protection after the 2003 invasion of Iraq but the country formally took control of Camp Ashraf in January.
The organization which is blacklisted as a terrorist group by the US was given shelter by former Iraqi dictator Saddam Hussein in the 1980s. It actively participated in Saddam's oppression of Iraqi people, including the Kurdish minority.
The Iraqi government has declared that it would no longer allow MKO members to stay in Iraq and they had to return to Iran or go to a third country.