Iraqi army storms Iran opposition camp, scores wounded
BAQUBA, Iraq (AFP) – Iraqi soldiers and riot police stormed a camp housing Iran's main exiled opposition on Tuesday, triggering violent clashes that left at least 260 people wounded.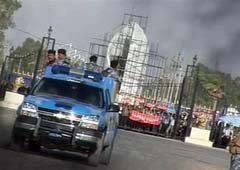 The seizure of Camp Ashraf, which was disarmed by the United States in 2003 and surrounded by American forces until recently, comes after months of a tense stand-off at the base north of Baghdad.
"After the failure of negotiations with the Mujahedeen to enter peacefully, the Iraqi army entered Camp Ashraf with force and it now controls all of the interior and all entrances to the camp," an Iraqi military source said.
The offensive followed a declaration by the People's Mujahedeen, which is regarded as a terrorist outfit by Washington, that it was ready to return to Iran if the authorities there would guarantee its members would not be abused.
It also coincided with a visit to Iraq by US Defence Secretary Robert Gates but the top US commander in Iraq, General Ray Odierno, said the US military had no advance warning.
Police captain Firaz al-Atbi from the restive province of Diyala where Ashraf is located said around 200 residents were injured when riot police called in by the army to quell unrest began beating them.
About 60 members of Iraq's security forces were also wounded, 20 seriously, he said, adding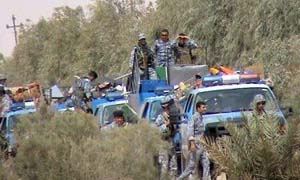 that 50 camp residents were detained.
Shahriar Kia, a spokesman for the People's Mujahedeen, said four people had been shot dead and around 300 others were injured. Atbi however denied the four deaths.
"We are so worried that they might take the people arrested to the Iranian regime and hand them over," Kia said by telephone from Camp Ashraf.
A provincial police official said residents were throwing bricks at Iraqi security forces.
The official said Diyala provincial police chief General Abdul Hussein al-Shamari had entered the camp to try to negotiate with the Mujahedeen to end the violence.
A company of US soldiers had overseen the camp until handing over control three months ago to Iraqi security forces as part of the drawdown of American troops, Odierno said.
"We didn't know they were going do this," he told reporters in Baghdad.
The Iraqi authorities had pledged to the Americans previously that they "would deal with the MEK (People's Mujahedeen) in a humane fashion," he said, adding that there were US observers on the scene.
"That's what we've been watching and so far they've been abiding by that."
US State Department spokesman Ian Kelly said Washington was "closely monitoring" the seizure, and added that the Iraqi government had "stated to us that no Camp Ashraf resident will be forcibly transferred to a country where they have reason to fear persecution."
Ashraf is home to around 3,500 Mujahedeen supporters and their families. It was set up in the 1980s, when now executed Iraqi dictator Saddam Hussein was at war with Iran, as a base to operate against the Iranian government.
The People's Mujahedeen said in a statement that Iraqi police had launched an attack on Ashraf by firing "pepper gas," with vehicles demolishing walls while police on foot forced their way into the camp.
"The Iranian Resistance holds the US forces responsible for protection of Ashraf residents and calls on the UN secretary general and all human rights organisations to intervene immediately to stop attack by Iraqi forces."
An Iraqi army spokesman in Diyala said two battalions of 400 soldiers each plus 200 riot police took part in Tuesday's operation, which was ordered by Prime Minister Nuri al-Maliki's office.
The Mujahedeen, which has been battling the Tehran government since the 1960s, said it was ready to return to Iran, subject to conditions.
The group's leader Maryam Rajavi said in a statement the Iranian regime would have to pledge "not to arrest, torture, prosecute or restrict the freedom of expression" of residents of Camp Ashraf willing to return.
The Mujahedeen is branded a terrorist organisation by the United States, but the European Union removed it from its blacklist earlier this year.
It was founded in 1965 in opposition to the shah, but was sidelined by the clerical regime which took power in the 1979 Islamic revolution.
by Ali Al-Tuwaijri Ali Al-tuwaijri