Mr. Franco Frattini Minister of Foreign Affairs of the Italy
We were disappointed to hear about Mrs. Maryam Rajavi's visit with many of members of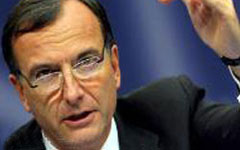 Parliament in Rome, July 29, 2009. As you are well aware, Mrs. Maryam Rajavi is the leader of a cult terrorist organization called Mojahedin-e-Khalq Organization (MEK, MKO). National Council of Resistance of Iran (NCRI) is a cover name for this organization.
We think, Italian Government must not permit the wastage of its diplomatic credit through gestures which do not serve the cause of democracy and undermines the coherence of Italy's policy. Because Maryam Rajavi is a leader of sect and terrorist Organization.
Respectfully, we would like to acknowledge that the Iranian Pen Club is consisted of those ex-members of the MKO who managed to free themselves from the mental and even physical barriers of the Organisation. The main object of the Association is of course to try to help the previous comrades in such way that they be able to free themselves too and start a decent normal life again along with their families and beloved ones.
we are sure that Mrs. Rajavi try to appear as leader of a peaceful movement but her movement , is a cover up for the MKO, a Cult which practiced forced marriage and now practices forced divorce, separation of children from parents, gender apartheid, imprisonment for criticizing leaders or even the leaders' strategy. Victims inside the MEK have been sent to Abu Ghraib prison. Extrajudicial punishments include torture, death under torture, long term imprisonment in solitary confinement and sentencing to execution – not carried out by express order of Massoud Rajavi. The Human Rights Watch report of May 2005 'No Exit', details only a small sample of such human rights abuses carried out systematically inside the Mojahedin. Former members will bear witness that none of the articles of the Universal Declaration of Human Rights are practiced inside the MEK organization.
We think the MKO in Iraq is finished, especially after the fall of Saddam Hussein and his government. The Iraqi Government wants to assert its sovereignty, regain its property, the garrison, and they do not want to keep those people on their soil who cooperated fully with Saddam Hussein against their people. So now we should ask 'why do the leaders of a cult terrorist organization want to keep the Ashraf,s garrison?
We have enclosed a small sample of the evidence which has already been made public concerning the MKO. The charges against the MKO and in particular its leaders include but are not limited to: crimes against humanity and war crimes inside and outside Iran.
With many thanks and regards
The Iranian Pen Club
04.08.2009
Postfach 90 06 63
51116 Köln
Germany
00491756391365
[email protected]
[email protected]
Cc:
Ministers of Affairs of the EU-
Relevant MEPs –
-Office of Iraqi Prime Minister Nouri al-Maleki
The Iranian Pen Club, August 05, 2009