The President of the Chamber of Deputies of Italy
Dear Madam,
Nejat Society is an NGO consisting of the former members of the Mojahedin-e Khalq Organization (MKO,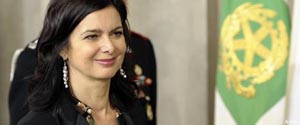 MEK) and the families of present members trapped in Iraq in the hands of Massoud Rajavi.
As you are aware a 10-member delegation, headed by co-chairman of Iran-Italy parliamentary friendship group Ettore Rosato, arrived in Tehran on Saturday morning for a four-day visit.
Amongst the members of the delegation were some who signed petitions in favor of MKO to condemn the Islamic Republic of Iran and to support Massoud and Maryam Rajavi.
We requested the members of the delegation to visit the members of our society and the victims of this mind control destructive cult, but they refused to do so.
If these parliamentarians claim that they work for Human Rights, Freedom and Justice, and yet openly support the MKO; it would have been a fare policy to listen to the victims of the MKO who have suffered from the violation of Human Rights inside the organization.
The aim of Nejat Society to request visiting the Italian members of parliament was merely to find a way to rescue the members in Iraq and try to put them in contact with their families in Iran.
Surprisingly, they support a terrorist organization under the name of defending human rights, but they refuse to listen to the victims of this terrorist organization.
Yours faithfully
Nejat Society
Copy to:
President of the Italian Senate
The Head of the Italian delegation to Tehran