Thirty-six members of the People's Mojahedin Organization of Iran (PMOI) are due to stand trial in al-Khalis, according to an informed source.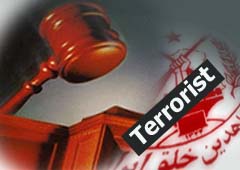 "Those members are currently held in accordance with Article 431 for triggering acts of violence that took place between police forces and Camp Ashraf residents in late July," a judicial source from Diala province told Aswat al-Iraq news agency.
Last month, clashes erupted between Iraqi security forces and PMOI members at Camp Ashraf, the headquarters of the organization, leaving 10 members killed and 400 others wounded, according to the organization's media spokesperson.
Two policemen were killed and 66 others were injured in the clashes, according to Iraqi officials.
The PMOI, also known by the abbreviations MKO and MEK, is a militant socialist organization that advocates the overthrow of Iran's current government. Founded in 1965, the PMOI was originally devoted to armed struggle against the Shah of Iran, capitalism and Western imperialism.
The group officially renounced violence in 2001 and today it is the main organization in the National Council of Resistance of Iran (NCRI), an "umbrella coalition" parliament-in-exile that claims to be dedicated to a democratic, secular and coalition government in Iran.
The PMOI has had thousands of its members for many years in bases in Iraq, but they were disarmed in the wake of the 2003 U.S.-led invasion and are said to have adhered to a ceasefire. Its armed wing is, or was, called the National Liberation Army of Iran (NLA).
Former Iraqi President Saddam Hussein dedicated Camp Ashraf in Diala province, northeast of Baghdad, to host the PMOI members since the 1980s.