TEHRAN (FNA)- A senior Iranian lawmaker on Wednesday slammed the United States' last-ditch efforts to keep members of the anti-Iran terrorist Mojahedin-e Khalq Organization (MKO) inside Iraq.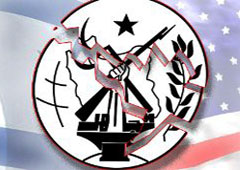 Speaking to FNA, member of the parliament's National Security and Foreign Policy Commission Gholamreza Karami Raad lashed out at the US plans to transfer the MKO camp to the bordering areas between Iraq and Saudi Arabia, and described it as an "unfriendly" and "questionable" move.
"If the new base for Monafeqin (the Hypocrites, as MKO is referred to in Iran) is set up in the borders between Iraq and Saudi Arabia, it will raise strong questions and will run counter to regional friendship," he warned.
"The US has been the main enemy of the Islamic Republic of Iran since the victory of the Islamic Revolution and always spearheads devilish acts against the Islamic Republic ruling system," the lawmaker mentioned.
Noting that everyone is aware of the relations between the MKO and the US, Karami Raad reiterated that the MKO has acted as the US's arm during the last 30 years and staged many assassinations against the Iranian people.
The MKO has been blacklisted as a terrorist organization by many international entities and countries.
The MKO is behind a slew of assassinations and bombings inside Iran, a number of EU parliamentarians said in a recent letter in which they slammed a British court decision to remove the MKO from the British terror list.
The EU officials also added that the group has no public support within Iran because of their role in helping Saddam Hussein in the Iraqi imposed war on Iran (1980-1988).
The group started assassination of the citizens and officials after the revolution in a bid to take control of the newly established Islamic Republic. It killed several of Iran's new leaders in the early years after the revolution, including the then President, Mohammad Ali Rajayee, Prime Minister, Mohammad Javad Bahonar and the Judiciary Chief, Mohammad Hossein Beheshti who were killed in bomb attacks by MKO members in 1981.
The group fled to Iraq in 1986, where it was protected by Saddam Hussein and where it helped the Iraqi dictator suppress Shiite and Kurd uprisings in the country.
The terrorist group joined Saddam's army during the Iraqi imposed war on Iran (1980-1988) and helped Saddam and killed thousands of Iranian civilians and soldiers during the US-backed Iraqi imposed war on Iran.
The MKO was put on the US terror list in 1997 by the then President, Bill Clinton, but since the 2003 US invasion of Iraq, the group has been strongly backed by the Washington Neocons, who also argue for the MKO to be taken off the US terror list.