Reported by many news networks, Iran's security officers grounded the plane carrying the ringleader of Jundullah terrorist group Abdolmalek Rigi in one of Iran's southern ports. Rigi was Iran's most wanted terrorist captured on a flight en-route to Kyrgyzstan from Dubai along with one of his deputies.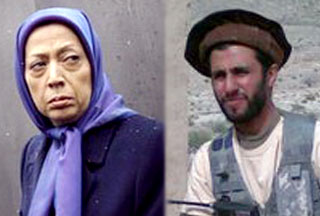 According to Iran's intelligence minister, the leader of Jundallah terrorist group was at a US base in Afghanistan 24 hours before his capture, in possession of a US-issued, forged Afghan passport. He had also met with NATO military chief in Afghanistan in April 2008 and also had links with some EU member states, as well as visiting such countries.
It was only a few weeks ago that reports of a meeting between the heads of the Rigi group and terrorist MKO was disclosed; they met in an area in Pakistan and held talks to make a joint front and to cooperate in line with making a terrorist group under the name of the Armed Forces Organization of Mojahedin. It was said that provision of weaponry and exchange of information have been among agreed issues in this meeting prior to finalizing the decision to make a joint front.
Just after Rigi's arrest, MKO-run website tried to ridicule Iran's potentiality that led to the arrest of Rigi whom the organization referred to as the leader of People's Resistance Movement of Iran (Jundollah). It claims that it was Pakistan that arrested Rigi and surrendered him to Iranian forces a week earlier. It also warned Iranian regime of any use of pressure and torture against the arrested.
The two groups having a bloody history of terrorist operations against Iranian people, MKO's support of Rigi's group comes at a time when it tries to acquit itself of terrorist charges that has put it on the US and other countries' list of terror. It makes no difference whether a terrorist group directly engages in terrorist activities or glorifies and supports the other's deeds.